Wave goodbye to sweaty 'laptop thighs'
A laptop carry case that's also a fan, sort of
Heat generated by laptops can be quite welcome if you're working with one on your laptop in a cold room. But if you'd rather save your legs from any dissipated heat then there's now a carry case that claims to do just that.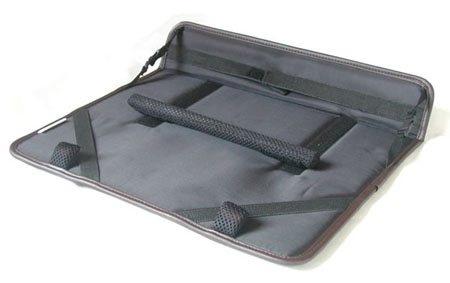 LapGard: a solution for sweaty on-the-go workers?
The LapGard's manufacturer claims its carry case-cum-heat dissipater is made of a special material that's resistant to heat. Inside the case is an adjustable elevation bar, which your laptop sits on top of to allow airflow around the bottom of the laptop, therefore allowing it to more easily reach hotspots like the processor.
In addition, the company also claims that LapGard has a "multi-core construction" consisting of three unnamed special layers that prevent the flow of electromagnetic waves, heat and radiation to the legs.
Neither problems are something Register Hardware had ever worried about greatly before, but if the case's properties are true then it could be a welcome relief to anyone prone to laptop-induced sweaty thighs.
The LapGard is available online from Amps and comes in four sizes, ranging from 12in laptops to 15in models. It's priced at £20 ($40/€32).
Sponsored: Minds Mastering Machines - Call for papers now open