Drobo storage box gets NAS add-on
'Infinitely expandable' capacity now on the network
Data Robotics' Drobo may have a daft name, but it's a clever take on expandable external storage. And today, it became a NAS box too, courtesy of a clip-on network adaptor.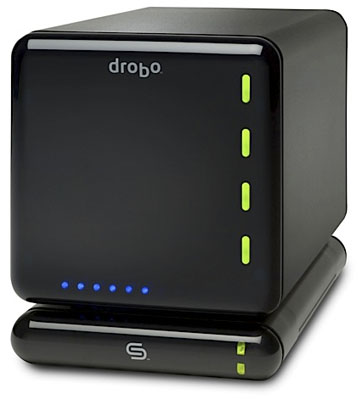 Data Robotics' Drobo: expandable storage
Drobo is a four-drive storage unit that allows you to plug in any SATA HDDs you've got hanging around and have it automatically create an aggregated storage space that's also protected against the failure of any given disk.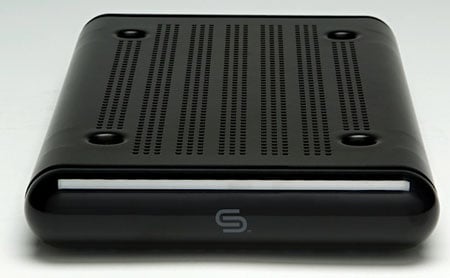 DroboShare: Gigabit Ethernet enabled
Pull out a drive and just swap in a new, bigger one, and Drobo restructures itself on the fly - and quickly too. The full capacity's appears on the host machine - Mac, PC or, now, Linux box - as a single mounted unit.
The new box, the DroboShare has a pair of USB ports into which you plug one or two laden Drobos - they'll both auto-aggregate into a truly colossal space - and a Gigabit Ethernet port to hook the whole lot up to your LAN. It'll make its avaiable through
An empty Drobo costs $499/£299, and the DroboShare adds a further $199/£119 on top of that, so it's not cheap. But it does make upgrading its storage capacity and absolute doddle. And it's cross-platform, supporting NTFS, FAT32, HFS+ and EXT3 file-systems.
Sponsored: Minds Mastering Machines - Call for papers now open