Samsung YP-P2 personal media player
iPod Touch beater?
Power consumption proved pretty impressive for a player with a screen of this size, constant video playback only draining the battery after more than 4 hours 20 minutes of continuous use - Samsung claims five hours. Left repeating music content the player was still going after 30 hours, making Samsung's claim of 35 hours seem credible. As with the T10, time to full charge via the USB cable is around 2.5 hours.
The supplied software package is Samsung's Media Studio 5 which is one of the better manufacturer-supplied media organisation and importing apps we've come across and deserves a pat on the back for being able to import, re-format and transfer to the P2 20 minutes' worth of The Trap Door H.264 video substantially faster than iTunes managed to perform the same task with an iPod. Media files can also be dragged and dropped via Windows Explorer or you can sync and manage your media library using Windows Media Player.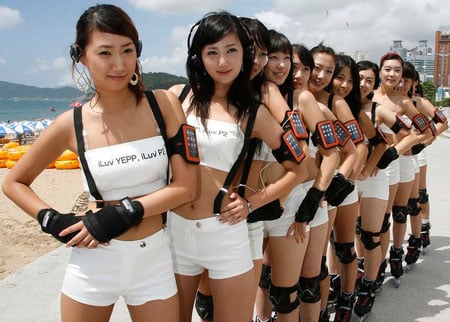 Asus? Pah...
As for drawbacks, one thing struck us straight off the spec sheet: a video-oriented player with a memory of between only 2GB and 8GB? Assuming you only store video what this means is that the 2GB model is good for about 3 hours 45 of content, the 4GB for 7 hours 30, and the 8GB for a little over 15 hours. In our book 2GB is just too little for serious video storage, or even flippant video storage for that matter. The range really should start at 4GB and run to 16, that would also put some blue water between the P2 and the smaller, cheaper T10.
An iPod Touch beater? Not really. With its web browser, wi-fi connectivity and larger screen, the Touch is frankly in another, if more expensive, league, which rather leaves the P2 first in a field of one.
Now where did those Yepp girls get to....
Verdict
The P2 has all the qualities that impressed us about Samsung's T10 but with a bigger screen and a flash touchscreen UI. But should really come in 4, 8 and 16GB flavours for the same price. As it is, unless you really do intend to watch a lot of video it's a little difficult to justify buying the P2 over it's smaller, cheaper brother.
Sponsored: Minds Mastering Machines - Call for papers now open

Samsung YP-P2 personal media player
Top quality audio and video playback but we aren't wholly convinced by the memory size to price ratio...
Price:
£88 (2GB) / £110 (4GB) / £130 (8GB) RRP