Samsung YP-P2 personal media player
iPod Touch beater?
External controls are limited to a power on/play/hold button on the lower left side and a volume control in the same place on the right. The volume control seems to have been deliberately placed so as to be preposterously hard to use one-handed unless you are blessed with the super prehensile thumb of an orangutan. The same control is on the upper right-hand side on the T10, exactly where it should be.
Again as per the T10, the bottom of the P2 is home to a 3.5mm headphones jack and a Samsung combo USB/power port. Charging out of the box is via the supplied USB cable, for mains charging you need a Samsung phone charger.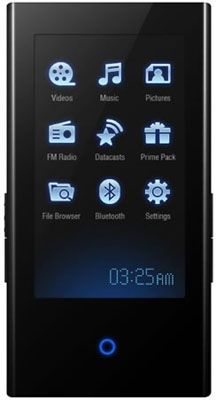 Tap into America
Once lit up and rocking, all other controls are activated by the touch screen. Basic menu commands are achieved by tapping once to select and then holding to activate/open. The nine main command icons can either be laid out in a work-a-day 3 x 3 grid, zoomed in and out with a swipe of the screen in the animated 'cosmos' setting, or placed at the bottom of the screen in a row of three icons placed below an image of your choice. A finger-swipe across the screen brings forth the next three icons into view. Mucking about with the menus is a good way to get to grips with the whole 'tap' and 'swipe up/left/right' idea on which the P2's UI is based.
Samsung usea the phrase "horizontal stroke" but that just sounds wrong to our ears...
Once the player is playing something, the available screen commands change in accordance with what that something happens to be.
If you're listening to music then tap the upper third of the screen and you change the graphic display. Swipe to the left on the middle third of the screen and you move to the next track - swipe right for the previous track. That seems back to front to us. Swipe left or right on the lower third and you fast forward or re-wind through the track.
Sponsored: Minds Mastering Machines - Call for papers now open