The MP3 speaker jacket
No headphones here
The New Year brings about resolutions to get fit and lose weight. So, if you're still struggling to get up of the sofa, a jacket with built-in MP3 capabilities could be the motivation you need.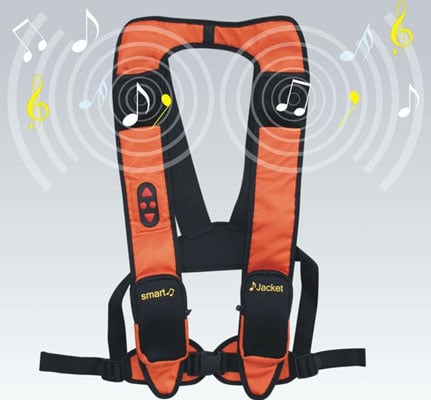 MP3 Smart Jacket: like jogging with a ghetto blaster
Although jackets integrating MP3 players are nothing new, this is the first we've seen that makes wearers look like they've just washed up from a shipwreck. It also has built-in shoulder speakers, which should mean you don't have to continually readjust your speakers while, say, jogging.
Your MP3 player is zipped into a secure pouch, should you trip over an errant shoelace and there's also a spare pouch for your mobile, pedometer, or bag or crisps. It has volume and track adjustment buttons on the arm and is available in a selection of colours, including 'night safe' bright orange.
The jacket is available online, but no price has been given yet.
COMMENTS
I'm tempted, but....
...I think I will hold out for the Borat style "mankini" version, sure to be out this summer!!!
its bad enough with mobile phones...
and stupid PFY's with their new phones all competing with each other to see whos crappy speaker can sound the worst and annoy more people on the bus, and now we have this monstrosity!!! what ever happened to ear phones.. ya know the ones that ye couldnt hear what was coming out of them unless they were in your ears!!!