NASA's Messenger closes on Mercury
Arrives Monday for a first fly-by
NASA's MErcury Surface, Space ENvironment, GEochemistry, and Ranging spacecraft (Messenger) will on Monday make a close pass of Mercury, marking the first spacecraft visit to the world in 33 years since Mariner 10 dropped by in 1975.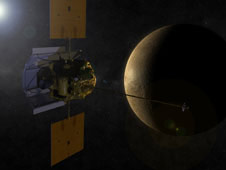 In the first of three encounters with Mercury before settling into orbit around the planet in 2011, Messenger will capture 1,200 images and probe the body's mineralogical and chemical composition, global magnetic field, and "tenuous atmosphere".
Alan Stern, associate administrator for NASA's Science Mission Directorate in Washington, said: "This is raw scientific exploration and the suspense is building by the day. What will Messenger see? Monday will tell the tale."
Sean C Solomon, Messenger principal investigator from the Carnegie Institution of Washington, elaborated: "During this flyby we will begin to image the hemisphere that has never been seen by a spacecraft and Mercury at resolutions better than those acquired by Mariner 10. Images will be in a number of different colour filters so that we can start to get an idea of the composition of the surface."
The boffins are particularly interested in the Caloris basin, an impact crater which, at roughly 800 miles in diameter, is one of the solar system's largest.
Louise Prockter, the instrument scientist for the Mercury Dual Imaging System at the Johns Hopkins University Applied Physics Laboratory in Laurel, explained: "Caloris is huge, about a quarter of the diameter of Mercury, with rings of mountains within it that are up to two miles high. Mariner 10 saw a little less than half of the basin. During this first flyby, we will image the other side."
This first fly-by will provide an essential gravitational pull to guide Messenger towards an eventual orbit. Two further passes in October 2008 and September 2009 are planned before the final 2011 rendezvous. ®
Sponsored: Minds Mastering Machines - Call for papers now open