Ion readies USB-connected VHS player
Rip your old tapes
CES Ion, the company behind those USB turntables much loved by those of us old enough to not only know what vinyl is but to have invested in an LP collection, is hoping to win over folk with home movies and films recorded on VHS.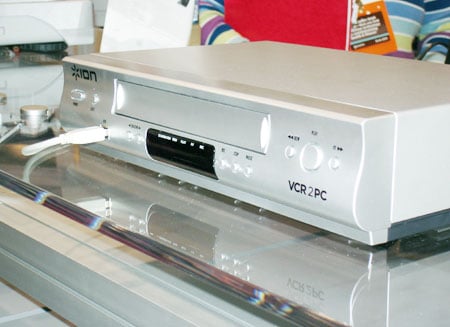 Ion's VCR 2 PC: transfer your old tapes
The VCR 2 PC may look like an early Amstrad video recorder but it's ready to be hooked up to a computer running Ion's own digitisation software, which will rip theuncompressed video from the player to a variety of digital formats, including the iPod and PSP friendly H.264, either for archiving on the host computer, transferring to a portable player or burning to a playable DVD.
Ion said the unit will ship with easy-to-use software for both Windows and Mac operating systems.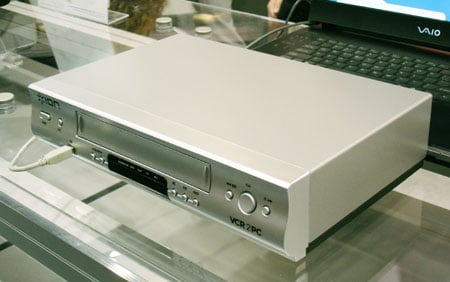 Ripper
The prototypes lack them, but shipping units will have composite-video and stereo audio inputs so you can connect a camcorder to the VCR 2 PC if you can't hook it up directly to your computer. The machine can also be wired up to a TV, Ion said, so it's usable as a replacement videotape player.
The VCR 2 PC is scheduled to ship in late May in separate NTSC and PAL versions, the latter with a Scart connection in addition to the standard composite-video output port.
Related Review
Ion USB turntable

COMMENTS
nice idea...
... but my problem is that my S-VHS recorder failed and the inpependent repair shop would not repair it. Annoyingly, it was just after I'd put my S-VHS home movies in a pile ready to copy to DVD+RW, for editing on the computer!
Maplins
Even more tat for Maplins to claim is a best seller and a bargain at RRP...
But will it defeat Macrovision?
Well?
Hmm
I guess it's a neat idea if the price is right. However I had no problem plugging my old VHS recorder into the back of my DVD recorder and copying all my old tapes over to DVD via scart.
A DVD recorder can be had for £60 odd these days and will be more useful in the long run.