Samsung touts tiny HD digital camera
Megapixels up, physical size down
CES Samsung has unveiled a High Definition (HD) video capture capable digital camera, which it claims is also the world's smallest 24mm ultra-wide angle digi cam with ten megapixels.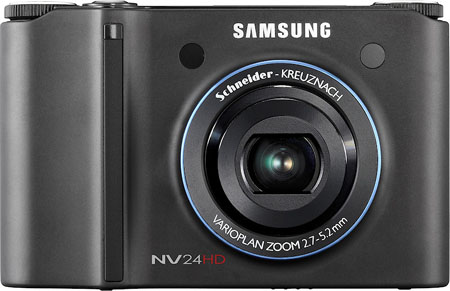 Samsung's NV24 HD: 720p video capture
The camera, dubbed NV24 HD, captures HD quality video at a resolution of 720p and has a maximum frame rate of 30 frames per second. Video content can be displayed on an HD TV directly from the camera, but only if you buy Samsung's separately sold HDMI Consumer Electronics Control cradle. If you choose not to, then your videos can still be viewed on the camera's 2.5in LCD screen.
Videos are recorded into MP4 format and stored on SD cards, with a USB 2.0 port built into the camera that lets users transfer images off a card and onto your PC.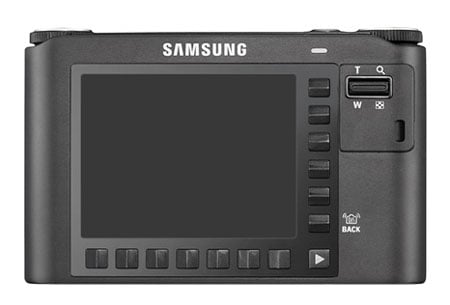 Samsung's NV24 HD: 2.5in LCD display
Should you still want to capture the odd still photograph, then the camera has a 3.6x optical zoom and a maximum ISO sensitivity of 3200. Digital and optical modes of image stabilization also feature on the NV24 HD, which Samsung claims work simultaneously to provide blur-free images, no matter how much you drank the night before.
Its 14 scene modes, such as landscape and sunset, are nothing out of the ordinary though, and the camera also includes all the features now common in even the cheapest digi cams, such as red eye reduction.
Samsung's NV24 HD camera will be available in the US from March for around $350 (£175/€210). A European price or release date hasn't been given yet.
COMMENTS
Zoom
How do they get 3.6x optical zoom from a 2.7 - 5.2mm focal length lens?
Re: 10 Mega Pixels??
Re: why not 1080p. You're missing something :)
The sensor could capture 1080p indeed (which only requires 2MP), but compressing a 1080p video stream to MP4 takes a much larger amount of processing and bandwidth, which is harder to fit in a small digital camera (and drives the price up). A 1080p frame has more than twice the number of pixels that a 720p frame has...
10 Mega Pixels??
A single 720p frame (1280x720) amounts to 921,600 pixels. Less than 1 MP - even a 1080p frame only accounts for just over 2 million pixels. Why do I need a 10 MP sensor to achieve this?
Even HD webcams from MS for instance boast 5MP sensors. Is it my maths or am I missing something?
If I am I'll get my coat now plus all the coats in the cloakroom of the school for the terminally dumbass'd that I obviously should be attending...