Mk II... er, Tank Chair trundles into Las Vegas
For when Rambo retires
CES The Consumer Electronics Show in Las Vegas this week has seen a wealth of innovative ideas on show, and one such creative concept is Tank Chair. Strictly speaking, this isn't new, but the Mk II that was on show features many improvements over the original.
As a company spokesperson explained to Register Hardware: "At first,it might seem a little strange, but think of the fact that you couldn't take a wheelchair onto the beach..."
Indeed.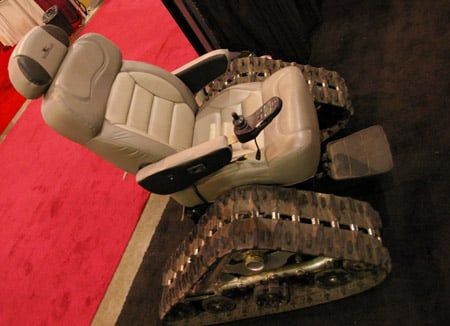 Tank Chair Mk II: good job Davros never had one of these...
True to the proverb that necessity is the mother of invention, the original concept came as a result of the difficulties faced by the designer's wife, who is disabled.
Coupled, quite possibly, with additional desire to be in the biggest, baddest wheelchair imaginable, mercilessly crushing anyone crawling along the curb in a sub-standard, shopping mobility cart.
It's constructed out of a one-piece steel chassis and the tracks are made from ruggedised rubber and lightweight aluminium struts. The 24v, 2hp, 127rpm variable speed motor is powered by four Optima Deep Cycle batteries. It also has a 22:1 gear ratio and can traverse a ten per cent incline. Pricing details of the all new and improved model weren't available, however.
Dial 1-888-tankchair for more info. Naturally.
COMMENTS
@Mark
Glad I'm not the only one to see the Dalek angle on this one. It is *very* Davros-like isn't it?
Now, where did I leave my Police Box?
Oooooohhh-AaaHHHHHH-OOoooooooohhh!
@paul
Actually
Warfare
Really
It's (contraction of it is)
Isn't
Their
Whistling
Theme
Great
Seven lines, nine spelling errors. Enjoy Spain.
Militant Stephen?
I have to wonder if Professor Hawking will be upgrading soon and getting a laptop and speech synthesizer mounted to one of these.
@Daniel...
Or perhaps you could grow up and leave us to our fun. If any of us accualy wanted to be in that position we would be in the armed forces. We would rather have our fun laughing about how fun tanks are (Which they are, its the warfair that isen't)
Secondly, HTF can they call it a tank. As many people have pointed out, no guns. Now, what I realy want is one with guns, so that I can go to Spain and start blowing up Germans on there sun loungers on the beach, whilst whisleing the theam tune to the grate escape and other war films.
@ Michael H.F. Wilkinson
Forget the supercharged V8, when's someone going to attach a JATO?