SanDisk unveils 12GB Micro SDHC card
CES SanDisk has started sending phone makers a Micro SDHC card that offers a whopping 12GB of capacity. Presumably it hopes the move will get the handset makers to start supporting memory cards that size.
The Flash specialist's own list (PDF) of Micro SDHC handsets, for example, doesn't list a single phone capable of using the 12GB card. There are ten that suppport 8GB, and a fair few others that'll take 4GB or 8GB cards, but compared to the total number of phones on the maket, the numbers are tiny.
SanDisk's 12GB Micro SDHC is rated at speed class 4. The company did say when the card will go on sale.
SanDisk also kicked off a campaign to persuade phone owners to buy memory cards. We were particularly intrigued by the following piccy, spotted on SanDisk's Wake up Your Phone website. Judging by the look on her face, we suspect she has...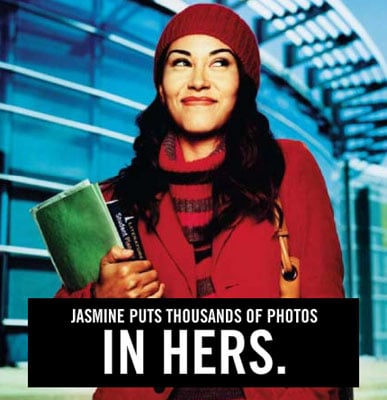 COMMENTS
12 GB Micro SDHC card
Seeing that Windows Mobile 6 supports the SDHC technology, cards up to 32 GB in size, the HTC AT&T 8925 Tilt should be more than ready to accept them.
This should also hold true for the Motorola Q9, and any other Windows Mobile 6 phone on the market.