Solar Cycle 24 is go: Official
Sunspot 981, come on down
Scientists are poised to confirm that a "modest knot" of high-latitude, reversed-polarity magnetism spotted last December on the Sun has become a full-blown sunspot heralding the beginning of Solar Cycle 24: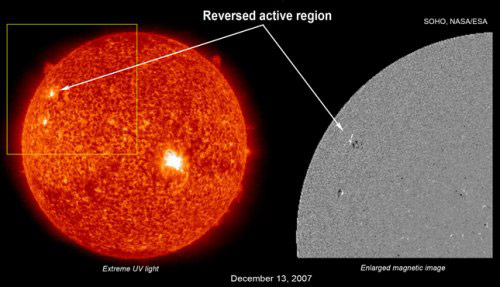 The sunspot, dubbed 981, marks the end of a lull in sunspot activity as Solar Cycle 23 passed away quietly, having peaked with "many furious storms" during solar maximum in 2000-2003: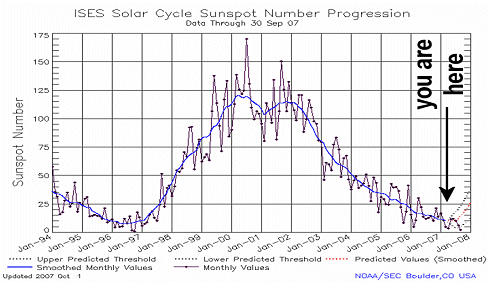 Opinion is divided as to whether the predicted solar maximum of Cycle 24 in 2011 or 2012 will be a modest affair or have "significant impacts on telecommunications, air traffic, power grids and GPS systems". If it's the latter, you may well have to rely on a map to get you to the best spot to enjoy one of the spin-off effects of ferocious solar activity - the free aurora lightshows.
Solar cycles end as sunspots migrate towards the sun's equator to die. The first sign of the next cycle is a new "high-latitude" sunspot, at around 25 to 30 degrees latitude, and whose magnetic polarity is the reverse of those of the previous cycle.
The transition between cycles, which sees a reversal of the sun's global magnetic field, is not an overnight affair. Sunspots of the old cycle gradually disappear while those of the new regime grow in numbers, and both can co-exist during the handover marking the end of the average 11-year cycle. ®
Sponsored: Minds Mastering Machines - Call for papers now open