Netgear preps power-passing powerline adaptor
CES Netgear's CES announcement may have centered on its 5GHz 802.11n kit, but the company also, quietly, announced an updated 200Mb/s powerline Ethernet adaptor – this time with a pass-through power socket. Interestingly, Netgear also embraced the second of two rival 200Mb/s technologies.
The pass-through ported HDXB111 is, like past Netgear 200Mb/s products, based on D2's powerline technology, which isn't compatible with the alterntive standard, HomePlug AV. The DS2 system is being driven by the Universal Powerline Association (UPA).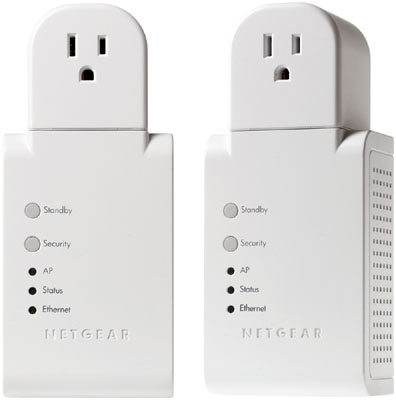 Netgear's HDXB111 powerline adaptor
The noise-filtered pass-through power socket allows consumers to roll out powerline connections without sacrificing mains sockets – handy if you currently have more gadgets to power than sockets to power them.
Not that Netgear's ignoring the rival specification to UPA: it also announced the XAVB101, a HomePlug AV-based alternative to its HDX101 UPA-based adaptor – reviewed here.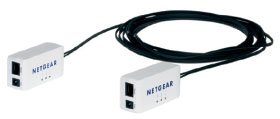 Netgear's Plastic Optical Fibre Ethernet Adaptor: even faster networking
The XAVB101 incorporates the latest revisions to the HomePlug AV standard and the Intellon-made chipset upon which almost all HomePlug AV kit is based, including push-button AES-128 password creation for easy-to-configure network security.
Want something faster? Netgear also introduced today the PF101 Plastic Optical Fiber Ethernet Adaptor, which allows you to connect Ethernet devices by up to 50m of fibre-optic cable. The speed maxes out at 100Mb/s – higher than the 25Mb/s real-world speed you get out of 200Mb/s-branded powerline adaptors.
Both the XAVB101 and the HDXB111 will be available singly and in two-adaptor starter kits, in the US and internationally. Ditto the PF101. Netgear didn't announce pricing.
Sponsored: Minds Mastering Machines - Call for papers now open