Nvidia nForce 780i SLI chipset
PCIe 2.0 and Penryn - bring 'em on
The 780i system consistently drew 30W more power than the 680i which is more than we expected to see as the two chipsets are so similar.
PCMark Vantage Results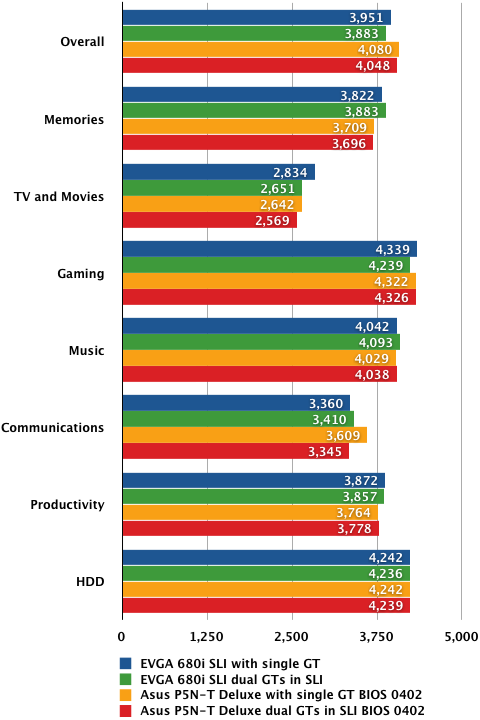 Longer bars are better
So what about the other new feature, the support for 45nm Penryn CPUs? We plugged in a QX9650 and the system wouldn't start so Asus sent us a Beta BIOS. The system still refused to start with the QX9650 so we tried the full-house QX9770 with 1600MHz FSB and the system was happy to run. Result! Unfortunately, Windows Task Manager only showed one processor core and performance was correspondingly rather poor so it's safe to say that Asus has some work to do on the BIOS.
PCMark05 Results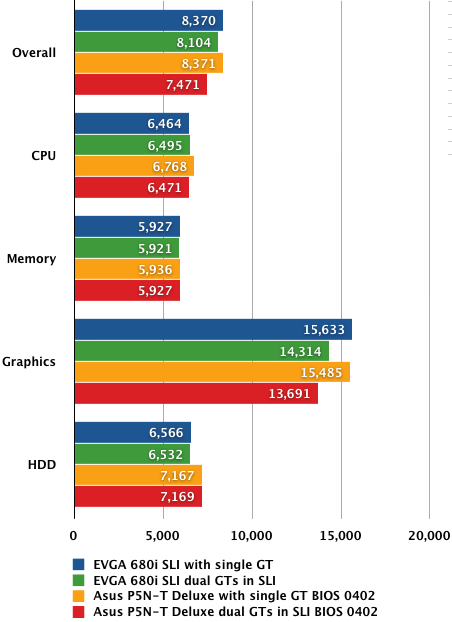 Longer bars are better
In that light, there seemed little point in spending any time overclocking as the BIOS clearly needs an overhaul. However, you can bet that it will be perfectly possible to overclock your Core 2 CPU and Nvidia graphics because they always do.
Verdict
If you want to run two or three Nvidia graphics cards in SLI with a Penryn CPU then it's an Nvidia 780i SLI chipset all the way. However, if you don't want SLI we'd advise you to stick to the tried and trusted Intel path.

Nvidia nForce 780i SLI chipset
Want three graphics cards in your Core 2 gaming PC? Add an Nvidia 780i SLI chipset on your shopping list...