Nvidia nForce 780i SLI chipset
PCIe 2.0 and Penryn - bring 'em on
In total, that's 62 lanes of PCI Express which is one heck of a large number and a staggering amount of graphics bandwidth but you have to wonder whether even the most hardcore of gamers will make use of all that potential.
Or you could look at the 780i SLI as a refresh of the 680i SLI chipset with certification for faster PCI Express and faster system memory as well as the support for Penryn processors. This approach extends to the MCP which isn't new silicon but is instead the nForce 570 SLI that has been around for well over a year.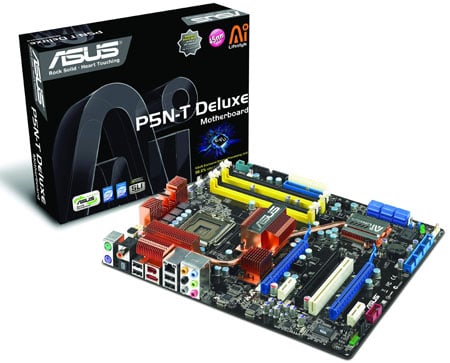 Asus' P5N-T: conventional layout
The question is whether the 780i SLI is warmed-up leftovers or a clever way of making some existing chips fit for use in 2008. To find the answer, we're comparing an EVGA 680i SLI with an Asus P5N-T Deluxe. The EVGA is an Nvidia reference board that sells for about £150, while the Asus is a 780i SLI with a price tag of £155. Not much of a difference, really.
Pricing of 680i models was always a fraught subject as the smaller manufacturers were obliged to resell reference products while bigger companies such as Asus had to pay a fortune for chipsets to use in their own designs. The result was that its P5N32-E SLI, which is a 680i SLI design, sells for £135 while its P5N32-E SLI Plus uses a hybrid chipset and is effectively identical to the 680i SLI yet it sells for £115.
We hear that Nvidia has adopted a realistic pricing policy for its new chipsets, so you don't have to pay much of a premium to get an Asus 780i SLI and that's an incredibly refreshing start to any review.
Power Draw Results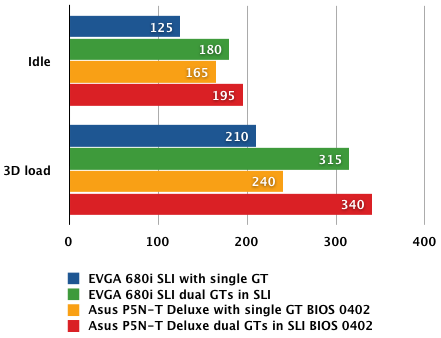 Power draw in Watts
Asus has used a passive cooling system to link the southbridge and northbridge with the power regulation hardware, and you'll also see a tiny cooler on the nForce 200 chip which is linked to the northbridge cooler by a heatpipe. The cooling set-up looks similar to the arrangement on a P35 or X38 model but there's no way you'll get away with passive cooling. A 680i northbridge hits 70°C or so with passive cooling, brought down to 40°C when you use active cooling. The 780i is even worse off as you have to factor in the nForce 200 chip which draws an additional 7W over and above the 680i SLI northbridge. Asus supplies a small clip-on fan in the package that is effective but which emits an annoying buzz.
Sponsored: Minds Mastering Machines - Call for papers now open