Nvidia nForce 780i SLI chipset
PCIe 2.0 and Penryn - bring 'em on
Review Nvidia's new nForce 780i SLI chipset is heavily – that's HEAVILY – based on the nForce 680i SLI, adding just two key new features. The first is support for 45nm Intel 'Penryn' processors and the second is the addition of PCI Express 2.0 for top graphics performance. It's safe to say that the 780i SLI is Nvidia's answer to Intel's X38 chipset, but it's not a direct comparison as Nvidia is sticking with DDR 2 memory instead of making the shift to DDR 3.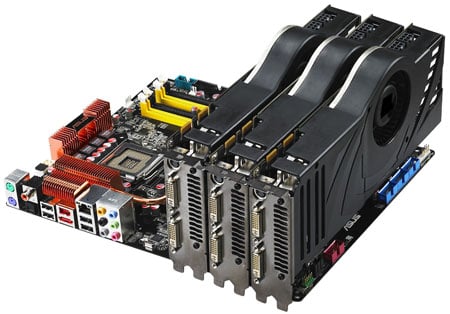 Asus' P5N-T: based on the nForce 780i SLI
The main attraction of any Nvidia chipset is support for SLI graphics. If you want to gang up a pair of Nvidia graphics cards then you need an Nvidia chipset on your motherboard, which explains the appeal of Nvidia's 600 series of chipsets. In the first instance, Nvidia launched its chipsets for AMD Athlon 64 processors and then added a memory controller to make the silicon compatible with Intel's Pentium 4. This has been changed around for the new chipset so the new 780i SLI presently is only available for Intel Core 2 processors, although you have to assume a Phenom version is in the pipeline.
Nvidia has recently announced 3-way SLI support for both the 680i and 780i SLI chipsets, but this seems like something of a distraction from the real world most of us inhabit. Three-way SLI allows you to use - yes - three GeForce 8800 GTX or Ultra graphics cards for games. The reason Nvidia chose the 'G80'-based cards instead of those with a 'G92', is that these older graphics cards have two SLI gold fingers on each card so the 3-way SLI bridge can connect all three cards together. With the single bridge on the G92 cards a different topology would be required so if you want to use a pair of 8800 GT cards you are limited to regular SLI.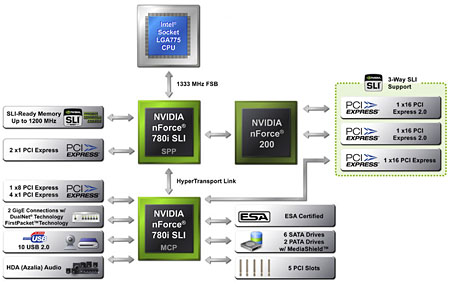 Nvidia's nForce 780i SLI
The 680i SLI chipset supplies 46 lanes of PCIe 1.1 with 16 lanes going to the two main graphics slots and eight lanes for the third slot. The 780i SLI eclipses that,with 62 lanes that are a mixture of PCIe 2.0 and 1.1. The two main graphics slots each get 16 lanes of PCIe 2.0, while the third slot has 16 lanes of PCIe 1.1, and the motherboard manufacturer then has the choice of more PCIe links using either PCIe 1.1 or 2.0.
This bizarre arrangement is explained by the block diagram above, which shows that the 780i SLI northbridge - Nvidia calls it a System Platform Processor (SPP) - connects the memory and processor and a couple of PCIe x1 slots while most of the graphics donkey work is handled by an nForce 200 chip which controls the three graphics slots. The southbridge, or MCP (Media Communications Processor), adds a x8 slot and up to four x1 slots.
Sponsored: Minds Mastering Machines - Call for papers now open