Dell shrinks 15.4in Inspiron laptops by 25%
Dell has revamped its 15.4in Inspiron laptop line by launching a new model clad in an array of four patterned colour lids. It's also three-quarters of the size of the previous version and 190g lighter.
Enter the Inspiron 1525, offered with a choice of Intel processors from the 1.86GHz Celeron 540 up to the 1.5GHz Core 2 Duo T5250. Each model sports a glossy 1280 x 800 screen driven by an integrated Intel GMA X3100 graphics core.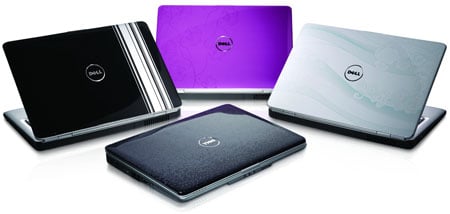 Dell's Inspiron 1525: colourful
Hard drives of 80GB to 250GB are on offer with the machines, as is a two-megapixel built-into-the-bezel webcam, and a variety of optical drive options. They all include 802.11b/g Wi-Fi and 512MB to 2GB of 667MHz DDR 2 memory.
The 1525 weighs 2.7kg, down from the old 1520's 2.89kg. The new machine measures 357 x 256 x 25-37mm to the old 358 x 269 x 37-45mm, so the 1525 is around 65 per cent of of the volume of its predecessor.
Prices start at $499 in the US. There's no word yet on UK availability.
COMMENTS
Of course it's smaller: It's a widescreen
Correct me if I'm wrong, but I think the old Dell 15.4 was a standard 4:3 screen, offering a resolution as high as 1400 x 1050. The new display is a 16:9 widescreen: It's less tall and can't show as much information vertically (certainly not at its stock 800 pixels). When you're using an MS Office app, those Microsoft toolbars will leave you with precious little vertical space to do your work. And of course, to match the new display profile, the keyboard is now less deep; buttons are more crowded.
Hey, if Dell wants to go wide, fine, but make it clear what's been sacrificed.