Crysis Results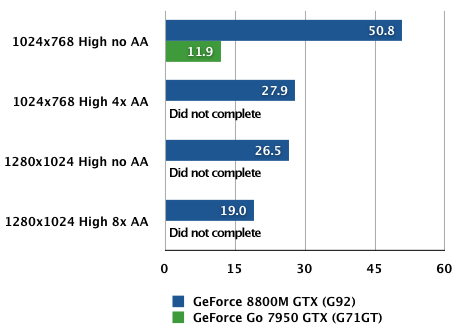 Average frames per second
Longer bars are better
3DMark 06 Results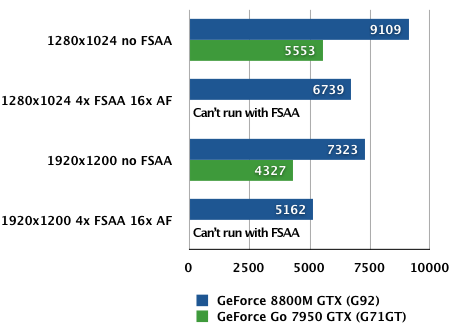 Longer bars are better
No doubt you're wondering what impact these superb graphics have on battery life but we've got a surprise for you. Both laptops use the same 4400mAh Li-Ion battery, but the 8800M GTX delivers far better battery life than the 7950 Go. We tested by running a loop of PCMark Vantage until the battery died so the graphics weren't working especially hard so we can only conclude that the 8800M is far more efficient at gating and shutting down those parts of the chip that aren't required at a given moment.
Battery Life Test

Battery life in minutes
Longer bars are better
The cooling fans make their presence felt in fits and bursts when you're performing regular Windows duties but that's as bad as it gets. During an intensive gaming session the fans don't get any noisier and the underside of the laptop remains cool to the touch which came as a very pleasant surprise.
COMMENTS
With an "a" not "e"
That should be www.novatech.co.uk (with an "a"). The other is a typo-squatter ad site :-(
Or buy it for 800 quid less from novatech...
I still dont understand how Rock stay in business... Novatech (www.novetech.co.uk)have the same machine (simply a rebadged generic CLEVO chassis) for £1400 with the same 512mb 8800M GTX, 2.4ghz c2d and 4GB of ram and a 320GB hard disk (but no HD-DVD player I suppose... big whoop!).
I reckon Rock are trying to play on shortages in 8800M parts to gouge on the price, but 2200 quid is ridiculous!