In synthetic system tests like PCMark05 and PCMark Vantage there's very little to choose between the two although the 8800M graphics do occasionally gain an edge which probably says more about synthetic benchmarks than it does about 3D graphics in day-to-day use.
PCMark 05 Results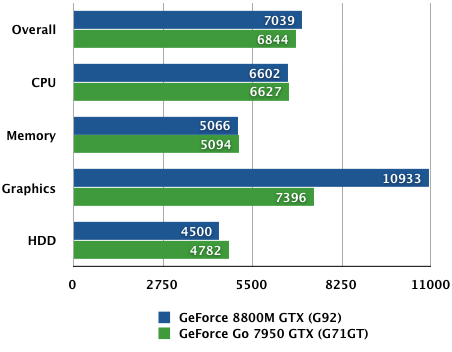 Longer bars are better
PCMark Vantage Results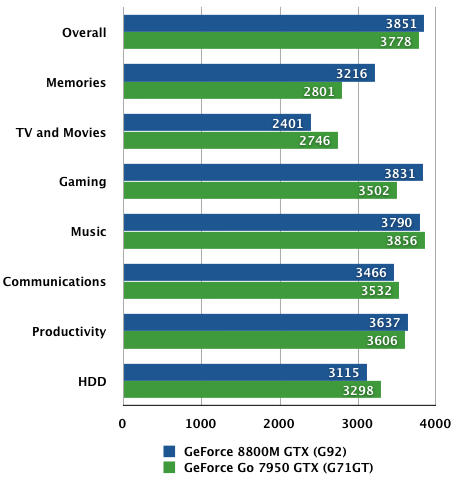 Longer bars are better
It's a completely different story in tests that put an emphasis on graphics, as the 8800M makes the 7950 Go look pathetic. In 3DMark06, the architecture of 8800M allows you to combine High Dynamic Range (HDR) lighting with anti-aliasing, while 7950 Go forces you to choose one or the other. In F.E.A.R Extraction Point, the 8800M has a small advantage but both chips do a very capable job. However, in Crysis, it's 8800M GTX all the way.
F.E.A.R Extraction Point Results

Average frames per second
Longer bars are better
COMMENTS
With an "a" not "e"
That should be www.novatech.co.uk (with an "a"). The other is a typo-squatter ad site :-(
Or buy it for 800 quid less from novatech...
I still dont understand how Rock stay in business... Novatech (www.novetech.co.uk)have the same machine (simply a rebadged generic CLEVO chassis) for £1400 with the same 512mb 8800M GTX, 2.4ghz c2d and 4GB of ram and a 320GB hard disk (but no HD-DVD player I suppose... big whoop!).
I reckon Rock are trying to play on shortages in 8800M parts to gouge on the price, but 2200 quid is ridiculous!