Invisio G5 'world's smallest' Bluetooth headset
Truly tiny... or truly tinny?
Out of the box, the 6g G5 is small but it clearly won't fit into or onto your ear. Alongside it, you'll find a baggie containing two rubber things that look like giant tadpoles. They're actually the G5's novel clip, one for the left ear, the other for the right. The thick end fits neatly into a groove running around the end of the headset, and it's moulded into a rough cone that points into the ear canal.
The tail, you bend over against the body of the headset and then release once you've put the G5 in place. The tail springs gently back and tucks itself into the folds of your ear, anchoring the headset.

It's more comfortable than it looks
It sounds odd, but it works. If the tail's too long, just trim a bit of the end off, NextLink suggests, but we didn't need to. The tail isn't spring-loaded, so there's almost no pressure on your ear, but it's elastic enough to hold the headset in place. You can give your head a good old shake, and the G5 will stay where it is.
With the G5 so sited, you can accept a call by pushing its outer-most face. Tweaking the volume is rather more fiddly, but the buttons poke out far enough for you to be able to feel your way to them quickly, and they have a good movement to them.
We found using the G5 to be as good as it gets with Bluetooth headsets. These things are never going to be totally discreet. Make them flesh-coloured and they look like old NHS hearing aids, and any other colour makes them stand out against all but the brownest of skins. But the G5 does a pretty good job - again, having no visible flashing light helps - and it's as comfortable to wear as any compact headset on the market today.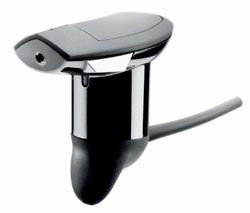 World's smallest headset?
Size does, however, affect its performance. Making and taking calls, we found that while callers could hear us just fine - which is no mean achievement given how far away the microphone is from your mush - they came across as a little distant and tinny to us.
Sponsored: Minds Mastering Machines - Call for papers now open