AMD lays down laptop platform plan
Mobile roadmap 2008-2009
Puma's second key component is the 'RS780M' chipset, which will come to market as the M780. This is a mobile version of the 'RS780' desktop chipset - aka the 780G. Both will contain a DirectX 10.1-compatible graphics core and support PCI Express 2 for the addition of discrete GPUs - such as AMD's upcoming next-gen 'M8x' series, expected to appear in the form of the M82, M86 and M88, targeting budget, mainstream and peformance-oriented systems, respectively.
The chipsets will support on-the-fly switching between integrated and, where present, discrete GPU(s). It's also thought that users will be able to accelerate 3D graphics using both graphics cores, CrossFire fashion.
The M780 will connect to AMD's SB700 southbridge I/O chip, which has ports for 12 USB 2.0 devices, two USB 1.1 add-ons, six SATA drives, parallel ATA and PCI add-ons. It also has the usual power management and HD audio support, and can incorporate a Flash module on the ATA bus.
Come 2009, AMD will introduce the SB700's successor - 'SB800'? - and incorporate it into 'Shrike', the follow-up to Puma. Shrike's key element is 'Swift', a 45nm mobile processor based on AMD's third-generation 'stars' processor core. That seems to separate it out from what AMD calls the 'Falcon' family of Fusion-architecture products, which are based on a CPU core known as 'Bulldozer'. Swift is due in the second half of the year.
Swift will be AMD's first CPU with an integrated GPU - the next component to come off the northbridge and onto the processor die now it's already shifted over the memory controller. The memory handler will be upgraded to support DDR 3 memory. All these changes will require the introduction of a new interconnect.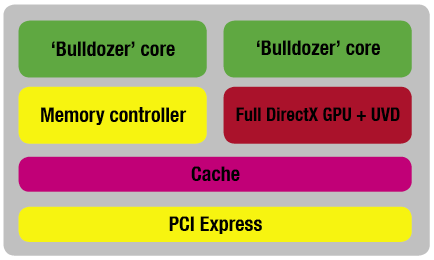 AMD's 'Falcon' processor design for 'Fusion' CPUs
Swift is expected to provide PCI Express lanes and control circuitry for discrete graphics chips - such as the mobile 'M9x' series due to be launched in 2009.
Fine details about the 2009 products are scarce, but we can expect Swift to enhance Griffin's power saving technologies and - thanks to that 45nm fabrication process - sport more on-board cache, including a shared L3.
Finally, there's 'Bobcat', AMD's processing core for UMPCs and mobile internet devices. The feline codename might seem to align it to Puma, but since it too is a ground-up design, the codename probably indicates a design heritage rather than a direct relation.
Given the kind of handheld devices Bobcat-based processors are being designed, it's not hard to imagine Bobcat cores being dropped on dies alongside a GPU - a key characteristic of the Fusion design.
Bobcat has been said by AMD to consume just a single Watt of power - though that's a design aim, and may not be delivered by first-generation Bobcat CPUs.
Sponsored: Minds Mastering Machines - Call for papers now open