Samsung YP-T10 4GB MP3 player
Another solid shot at the title
Our player came pre-loaded with the cinematic trailer for Dragon Wars, which looked bloody impressive even with the top and bottom 15 per cent of the screen dark so as to accommodate the 16:9 widescreen image. WMV files that we copied across via the supplied Samsung Media Studio 5 software came out looking sharp, crisp and well-defined with excellent colour balance.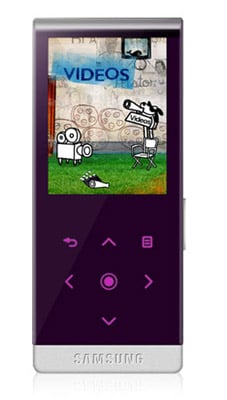 We're not too sure about the purple though...
The FM radio works just fine. The lack of RDS is a bit of a pain, but once you've programmed in your own stations in it becomes far less of an issue. The ability to record radio broadcasts is a nice bonus feature and is achieved with only two control actions.
Depending on which part of its website you read, Samsung quotes either 30 or 35 hours of music playback, and four or five hours of video playback per charge. We left ours running for 26 hours repeating the same audio track and it was still going. Performing the same test with video playback drained the battery sometime between 3.5 and four hours. Time to full charge is 2.5 hours, though it seemed to get to about 70 per cent of full charge in just over an hour.
The supplied earphones are nothing to write home about but do the job, being both relatively comfy and tuneful.
So, what about the negative points? All minor stuff. In the menus, the item you have activated is the one without the spot in the circle rather than with - a bit counter-intuitive, especially in those menus with only two options. All bar two of the screen colour schemes are horrid - they must really like pale pink, red and yellow in the Far East, while the "Sammy the Dog" screen images and animations are a little too twee for our taste. And you can't add in a memory card, so you're stuck with your 2, 4 or 8GB.
The player comes in a selection of fairly ghastly colours, so our advice would be stick with the black and go for the 4GB version, thereby saving around £25 against the "equivalent" spec Nano.
Verdict
There really is nothing to fault with this little device but some of the colour schemes. It does everything you could conceivably ask of a small media player, and is both lighter and cheaper than its main competitor.

Samsung YP-T10 4GB MP3 player
Small, light, cheap, good battery life, excellent music and video playback, heaps of extras. Exactly what more do you want?
Price:
£57 (2GB) / £74 (4GB) / £100 (8GB) RRP