Samsung YP-T10 4GB MP3 player
Another solid shot at the title
Perambulation through the menu is problem free and mastered in moments - just tap an arrow to move and hit the centre spot to select. We have long been fans of the iPod's UI, but frankly Samsung now has it beaten like the family mule.
Once playing, the T10 gets better still. Fitted with what Samsung calls its second-generation Digital Natural Sound engine (DNSe2), the sound is simply superb for a portable MP3 player. Of course you get the now obligatory plethora of EQ settings, both pre-set and user-changeable, but these are frankly superfluous.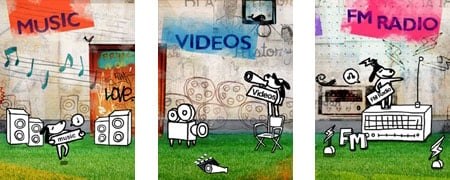 iPod-beating, no-worries navigation
Leaving the sound in 'normal', we were impressed by the sound quality across a range of musical content, from an album of Bax tone poems through a bit of opera to Springsteen's latest and a live acoustic album.
The player also has a couple of pre-set boost settings entitled 'Street Mode' and 'Clarity'. While the latter is of little use, just giving the bass a kick, the former is pretty handy as it ups the treble and pushes the vocal line forward, which is useful if you are in a Tube or on an aircraft with a constant background drone.
Under the heading 'pointless but fun', you can alter the music playback speed from x0.7 to x1.3 - we struggle to think why anyone would actually want to do this, but hey, a feature is a feature. Slowing down audiobook playback, perhaps? Unfortunately, this function doesn't extend to video.
Video playback is as impressive as audio. Videos play in landscape so you to have hold your player lengthwise to watch, but this really is no hardship and is arguably a better answer to the problem than Apple's idea of making the whole player an odd shape. And, of course, a 2in screen player is never going to be first and foremost a device for watching video.