Samsung YP-T10 4GB MP3 player
Another solid shot at the title
Review Let's be honest, any new Flash-based 2, 4 or 8GB media player with a 240 x 320 screen has only one real aim in life: to be better than the equivalent device from that mob who slap a half-eaten Granny Smith on all their kit. So it is with the new Samsung YP-T10.
The specification sheet suggests a pretty beefed-up player. The T10 comes with an FM radio, the latest word in Bluetooth stereo, a voice recorder, a host of screensavers and display options, and a pretty generous range of format support, including WMV, JPEG, MP3, WMA, Ogg and text files.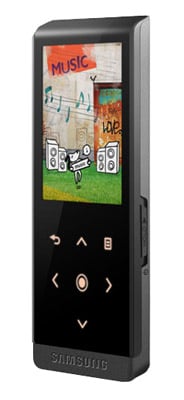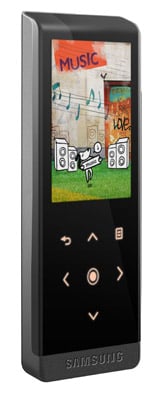 Samsung's YP-T10: small player, big spec
The T10's styling is more in line with the iPod Nanos of yore than the rather odd shape of the latest generation. Coming in at 96 x 41.5 x 8mm it's taller and narrower, but a touch thicker than the Nano, while at 43g it's also 6.2g lighter. At the bottom is a standard Samsung charger/USB connector and a 3.5mm headphones jack. The retail pack comes without a mains charger so you have to make do with charging the T10 via the bundled USB cable and a computer.
However, the unit can be charged with any Samsung phone charger. This commonality could well be a major selling point for those currently using a Samsung phone.
The only other external switch is the on/off slider on the right. Hold down for on and off, or click up to lock the controls. It's a simple and elegant solution to the whole 'how do I switch the darn thing on and off' conundrum.
Four white arrows glow below the 2in screen along with a white dot in the middle. To the left of the 'up' arrow glows the 'back' icon, to the right the 'current function menu' icon. Tapping any icon gives you an immediate response, so even without any tactile feedback using the controls quickly becomes a real joy.
Sponsored: Minds Mastering Machines - Call for papers now open