Hauppauge XFones PC-2400 wireless headphones
Dolby technology built in bundled
First Review You have to admire Hauppauge's brass. The company known for its TV tuners is marketing its XFones as wireless headphones with Dolby Headphone technology. That's all true: they are headphones, they are wireless and, yes, they do feature Dolby. But this smart sound system comes not from the hardware, but the bundled DVD playback software.
Dolby Headphone is a sound-processing technique that makes for a more 'widescreen' audio experience. According to its developer, it combines a 5.1-channel sound stream with the characteristics of various listening environments to simulate with two speakers the sound you'd get out of six in, say, an auditorium.
As the name suggests, those two speakers are expected to be placed right up close to your ears, and while many products will mix the six sound streams coming off a DVD into two, Dolby reckons its approach makes for a more natural, three-dimensional sound.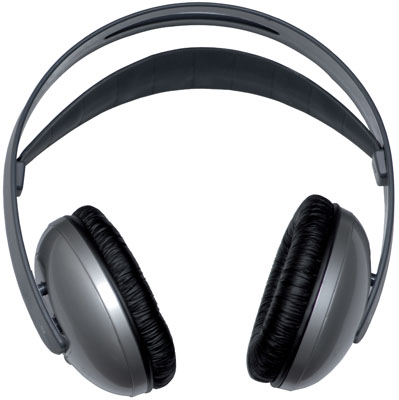 Hauppauge's XFones: it's all in the software
There's a good demo of the technology at Dolby's website here.
But back to the hardware. The XFones are cans of the kind that completely enclose your ears. The cups are connected by the usual rigid, cable carrying headband, but there's a secondary band beneath it that's elasticated to help hold the 'phones in place. There's no height adjustment as such, so if you head pushes the elastic strip right up to the headband and the cups still don't reach your ears, that's tough.
We found the headphones were comfortable to wear. They'll only move around if you shake your head vigorously. Put it this way: they should stay on no matter how much you find yourself ducking and diving during a gaming sessions, or movie viewing.
The left-hand cup is home to the power button and power light, and beneath the twist-to-unlock-and-remove cushion you'll find spaces for the three AAA batteries that drive the 'phones. Batteries are included in the box.
The right-hand cup has a bass-boost switch and volume control buttons. It also has a light that indicates the 'phones are connected to the USB dongle that takes the sonic output of your Mac or PC and streams it over to the headset. Out of the box, the two units are already paired, but both have a Pairing button - on the headphones it's doubles-up as the bass-boost button - in case you need to re-connect them at some point.
Sponsored: Minds Mastering Machines - Call for papers now open