Jiwai.de or Twitter?
Variations on a meme
And then there's Jiwai.de
To most of us, Twitter is common currency. Everyone's tweeting along happily - even user groups and big celebrities. Mention Jiwai.de, though, and you go... what?
Meet the local Twitter, Jiwai.de. Hosted fully inside mainland China, fast, and all in Chinese, it's Twitter for 172 million. It's probably no wonder that it's been all the rage. It's both local (remember China's really a huge intranet at that) and it's in the local lingo.
And then there's the interface. Does Jiwai.de look like Twitter? It doesn't, actually. Much of Twitter is in sky-blue. Jiwai.de is more orange-y. And it has tabs - the stuff you don't see on Twitter.
Jiwai.de is big, but there are other players we'll touch in a later edition, like Fanfou. Jiwai.de made it big at the Chinese Blogger Conference in late 2007, when it supplied the IM stream for the entire event. In fact, before the blogger conf, yours truly had no idea whatsoever what Jiwai.de was.
By the way, the domain name is smart. "De" in Chinese is "of", but this time, they're using "de" as a bit of a "meaningless ending" - but one that every local uses (I know it's not easy to explain in the English tongue. Just know that a lot of folks speak that way in the PRC). So that's why, TLD-wise, it may look a bit German... it's actually not...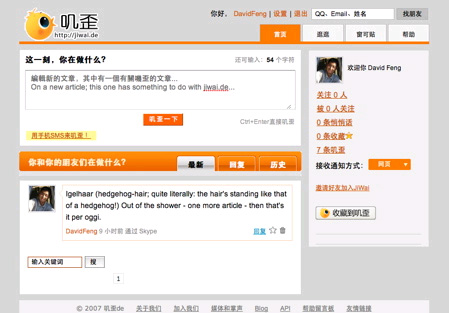 No ordinary Twitter ripoff?
Sponsored: Minds Mastering Machines - Call for papers now open