UGC Renegade gaming chair
We only quite liked it
The Renegade is compatible with every console available as it's 'linked' to the game you're playing through sound. Consequently, the sound pumping through the speakers built into the headrest is quite bass heavy. We tested the Renegade with an Xbox 360 Elite - reviewed here running Gears of War and Project Gotham Racing 4. The former kicked up a veritable barrage of bass, and with the game chair volume turned up anywhere past the half-way mark, the speakers began to crackle.
You can forget actually being able to hear anything going on around you. In fact, you can't hear anyone talking even if they're standing right next to you, so you won't stand a chance with a mobile phone ringing, the pizza arriving at your front door or the microwave pinging, ready with your popcorn.
The layout of the Renegade control panel is - from left to right - features, power inout, sound input and then a 3.5mm headphone jack. Then we have the actual on/off button and a switch for the underseat lights. Oh yes. Finally, a series of sliders allow you to adjust 'Frequency', 'Sensetivity A' and 'Sensetivity B', 'Motor' and 'Volume'.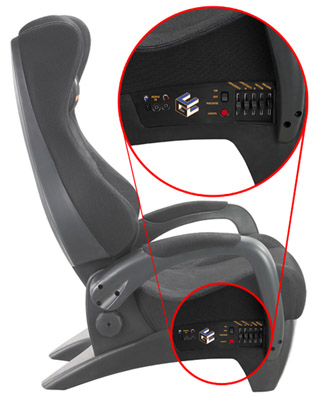 Seat controls, equalizer-of-sorts etc
'Frequency' had little effect on either the sound or the vibration, although we understand it's supposed to alter the speed at which the chair shakes. 'Sensitivity A' adjusts the amount of vibration in the seatback and 'Sensitivity B' has the same effect on the bit your bum sits on. 'Motor' controls the overall amount of vibration, and 'Volume' is self-explanatory. The on/off button also features an option labeled 'Massage'. However, this was more like just sitting on a really big speaker in a nightclub than actually receiving any kind of muscle-relaxing relief.
And yes, there are half a dozen red LEDs under the chair that flash in time with the vibration that iself beats in time with sections of the game that generate a lot of bass. Opinion at Register Hardware is divided as to whether these are awesome, or awful. But you can very easily switch them off if the Bournemouth boy-racer look is not your bag.
Verdict
Granted, it looks really good, but considering the Renegade is going to cost you 225 clams, you want more than looks. It is comfortable, but after about 45 minutes of serious stick action, you are going to want to get up and have a little stretch. Especially if you're tall. The build quality is sadly quite poor in areas, and the lack of attention to important ergonomic issues, like having the seatback adjust so close to the armrest, is shocking. In short, we were disappointed. We'd had really high hopes for the Renegade and it came up short.
Sponsored: Minds Mastering Machines - Call for papers now open

UGC Renegade gaming chair
Fun, sure. But not £225 worth of fun...