UGC Renegade gaming chair
We only quite liked it
Review Want to feel closer to the action? Want to feel like you're parked in a Pontiac, engine purring, poised, ready to burn rubber, racing through the streets of some still-asleep city? Then the racing-style Renegade games chair could be the console accessory you're looking for.
A minimum amount of assembly is required upon opening the (surprisingly big) box - nothing more than a few small bolts needing to be inserted and tightened with the supplied alan key, just to secure the arm rests to the body of the games chair. However, the seat back can prove a tad more troublesome to fit, and it would be wise to enlist additional help at this point, as you need to slide it into place and connect the audio cables at the same time. Needless to say, it's a little stressful to attempt solo.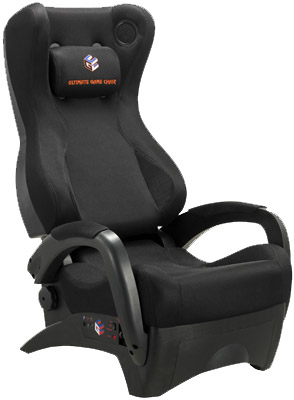 Renegade games chair: looks fast...
And at 22.7kg, the chair's not exactly lightweight. It measures 60 x 100 x 45cm, a far cry from the more modest beanbag-like Slouchpod gaming chair.
Power is provided to the chair through a 4.5m, two-part cable, and audio is piped through a 3.5m RCA stereo cable that connects to the speaker ports on your TV. The nice thing about this is that sound then comes from both the television and the 6W speakers built into the chair itself.
Arguably, the biggest complaint we had about the Renegade was that the seatback tilt-adjust control was positioned far too close to the arm rest. This means that altering the position of the seat results in some serious bruising to your thumb as it inadvertently gets crushed every time you reach-around to turn the dial.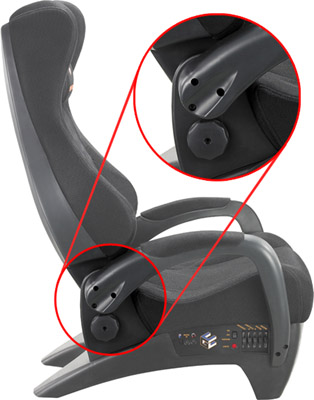 Badly positioned adjust control equals bruised thumb
The game chair is reasonably comfortable to sit in. However, anyone over 6ft-tall is going to wish the adjustable headrest could go higher, and probably that the arm rests were a little higher as well. The little pull-out tray at the front is a nice idea, but poorly implemented. It's meant to store wireless controllers and the like, but it feels wobbly and not very sturdy. The same can be said for the cup holder on the left-hand side of the chair: really great idea, just not very well executed.
Sponsored: Minds Mastering Machines - Call for papers now open