Canadian cable giant slips Yahoo! name onto Google home page
Rogers and out
Rogers Communications, the Canadian cable and telcoms giant, has slapped the Yahoo! name onto the Google home page. And Google isn't too happy about it.
As first revealed by Lauren Weinstein, co-founder of the People For Internet Responsibility (PFIR), Rogers is testing a new technology on its high-speed internet service that inserts Rogers-centric messages onto third-party web sites.
This alone is enough to annoy the likes of Google. But it so happens that these messages carry the name of Rogers' high-speed internet service - which is the unfortunate result of a co-branding deal with Yahoo!.
On his blog, Weinstein posted a screenshot showing how Rogers had bastardized Google with a Yahoo!-happy message notifying some poor schmuck that he was quickly approaching his monthly data limit. The message was inserted directly into the page, and the Yahoo! names turns up twice.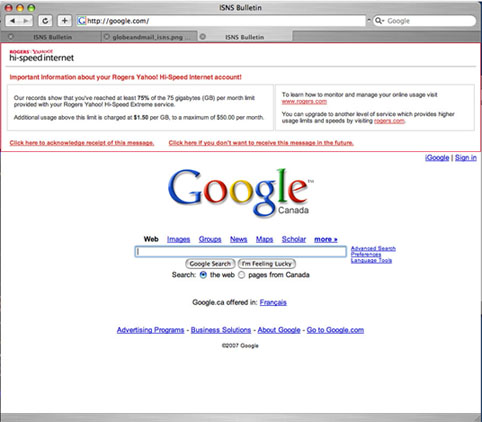 Google Rogers Yahoo! home page
Speaking to The Toronto Star, Rogers confirmed that this was going on. It wholeheartedly defended the practice, arguing that it's a lot like a wireless provider sending messages to a customer's cell phone.
"We've done customer research on the technology and the feedback was good. So now we're trialling it," Rogers spokesperson Taanta Gupta told The Star. Gupta did not respond to our request for comment.
Meanwhile, Google is peeved. "We are concerned about these reports. As a general principle, we believe that maintaining the Internet as a neutral platform means that carriers shouldn't be able to interfere with web content without users' permission," a company spokeswoman told us. "We are in the process of contacting the relevant parties to bring this to a quick resolution."
So the world's largest search engine is arguing that Rogers has violated net neutrality. And we agree. But we'd also like to point out that Rogers slapping messages onto the Google home page reminds us of Google slapping messages into our Gmail page after indexing our private email messages.
OK, it's a bit different. But still. ®
Sponsored: Learn how to transform your data into a strategic asset for your business by using the cloud to accelerate innovation with NetApp