AMD ATI Radeon HD 3850 graphics chip
AMD back on top
Review The AMD ATI Radeon HD 3850 uses the same chip as the HD 3870 with the core and memory clock speeds reduced from 775MHz and 2250MHz to 668MHz and 1650MHz. But the really big difference is the 600MHz gap in the memory speed because AMD has chosen to run the 3850 on 256MB of GDDR 3 while the 3870 gets 512MB of the Full Monty GDDR 4.
Apart from the clock speeds you get the same features in both chips: DirectX 10.0 - it'll do 10.1 when 10.1 becomes available - the bus is PCI Express (PCIe) 2.0; an integrated Universal Video Decoder (UVD) core handles HD movie content; the HD audio processor supports HDMI 1.1; and the power connector is a single six-pin PCIe unit instead of the six-pin plus eight-pin found on the Radeon HD 2900 XT.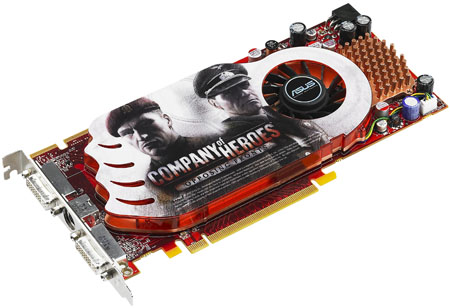 Asus' EAH3850 TOP: powerful yet slim
That's great when you're looking at the 3870 as it replaces the 2900 as AMD's top graphics product so the reduction in power draw and the addition of the UVD make it look quite interesting. The problem is that 3870 can't compete with Nvidia's top-notch chips so it's been priced at £170 where it can go head-to-head with the GeForce 8800 GT. This is a fair contest, won by the Nvidia product, albeit by a short head.
As we said, the 3850 uses the same technology as the 3870 but it has been positioned as a budget product that uses a single-slot cooler that makes it look very similar to the 2600 XT. If we compare the specification of the 2600 XT and the 3850 there are a fair few similarities as both chips have a UVD, a single power connector and are priced around the £100 mark. The use of PCIe 2.0 is neither here nor there at present, and support for DirectX 10.1 is all well and good but doesn't have any impact at all for the time being.
The major change is inside the chip as the 2600 was a cut-down version of the 2900 so it only had 120 unified-shader processors compared to the 320 in the 2900, but the 3850 has the full complement of 320.
Sponsored: Minds Mastering Machines - Call for papers now open