Nokia to turn cameraphones into foreign food finders
They'll help you shop too
Nokia has developed prototype cameraphone applications that'll not only make ordering dinner from foreign restaurant menus easier, but which also promises to take window shopping online.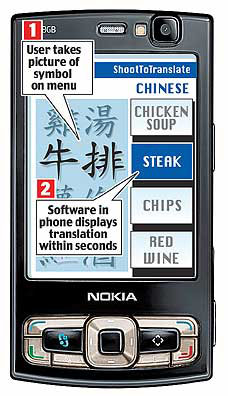 Point&Find: snap, order, eat
Dubbed Point&Find, the technology incorporates numerous elements, including GPS positioning, image recognition and artificial intelligence algorithms. However, the processing required to work out what you just snapped an image of will apparently be done on your network provider's servers.
After snapping, say, a t-shirt in a shop window, or a film poster, the handset will connect to the internet and, hopefully, present the user with a selection of online purchase options or movie reviews.
The question is, does the service become more accurate the better quality of your camera? For example, if you snap a sports top with a one-megapixel camera, will you be sent to a website selling trousers?
Nokia's also designing the concept to translate foreign menus too. So if you're struck dumb by a French menu offering "Le steak and chips", you can just snap a picture of the text and it'll translate it into your native language. Nokia claims its prototype application can currently scan and translate 9000 Chinese words and 600 Japanese words.
Both the prototype applications are expected to be built into Nokia's N95 handset.
Sponsored: Minds Mastering Machines - Call for papers now open