Tosh promises March '08 launch for super batteries
Five minutes' charging yields 90 per cent capacity
Toshiba will begin shipping its first Super Charge Ion Batteries (SCIB) next March, capable of powering machines for longer and with far less capacity degradation than today's lithium polymer packs. The snag for laptop users: SCIB cells are aimed at transport and industrial applications.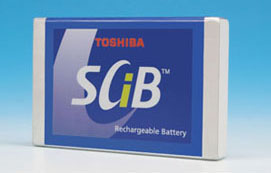 Toshiba's SCIB: next-gen batteries for bikes and cars
Toshiba said it will put the 4.2Ah SCIB cells into mass production in March 2008. The 150g units will also be packaged into modules containing ten cells. The company portrays SCIB as a long life technology: even with frequent, rapid charging, SCIB cells should remain operational for ten years.
During that time, the cells are expected to lose only ten per cent of their capacity after 3000 charge cycles. Compare that to today's laptop and phone batteries that can lose up to 20 per cent of their capacity after just 1000 cycles.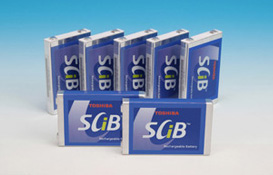 Ten cells make a module
The SCIB cells can be recharged using high currents, with a 50A power feed charging a cell to 90 per cent capacity in just five minutes. They will operate normally at temperatures as low as -30°C.
Laptop owners will, of course, be more interested in the cells thermal characteristics. Toshiba said the use of a new but unspecified negative electrolyte material and "a structure resistant to internal short circuiting and thermal runaway" means that "the possibility of rupture or combustion is very low".
So, no conflagrations a la certain Dell, Apple, Lenovo, Sony and other laptops of the kind we saw all too frequently last year...
Sponsored: Minds Mastering Machines - Call for papers now open