Nokia 6500 Slide mobile phone
Nothing slippery about this one...
You can play songs through the speaker in the rear panel, which is surprisingly loud and not too bad – if, as usual for a mobile, bass-lite and prone to overdoing the tinny high-end. The supplied earphones are the usual OK sort but crunched bass a touch at higher volume. Try better quality earphones – or a Bluetooth set - to get a higher quality performance from this decent music player.
Unlike the Classic, the Slide includes an FM radio, which is a bonus.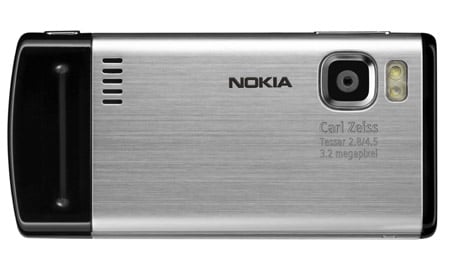 Better than your average snapper
Like the Classic, the Slide has Opera's Mini web browser as well as Nokia's own. This small-screen app optimises websites for mobile phone screens, and can speed up browsing considerably on some sites, displaying pages in scroll-down format. It may not be to everyone's taste, but it's another welcome option.
In addition, Nokia has included the Yahoo! Go mobile application as standard on the Slide. This Java app displays web-based Yahoo! services as widgets, including Flickr, maps and directions, plus pushed news and info updates which can be user-configured.
Other applications on the Slide include the now obligatory email client, which supports attachments, to go with the MMS and SMS text messaging. Instant messaging and Push-To-Talk communication are also supported. The regular Nokia organiser set-up is included, along with a convertor app, world clock, Bluetooth Presenter remote control function and Nokia's Sensor short-range Bluetooth social networking application. Five games are lined up too – Backgammon, Snake III, Golf Tour, Highroller Casino and Rally 3D – to help fill up your downtime.
The overall call performance of the Slide was excellent, with none of the problems you might anticipate from a full-metal jacket mobile. We were pleased with the excellent quality of the tone, volume and signal handling alike.
Battery life for the Slide is quoted by Nokia at up to six hours' talktime or up to 320 hours on standby – considerably longer than the 3.5 hours' talktime or nine days' standby quoted for the Classic. Real life usage always makes these optimum figures appear optimistic, of course, but the Slide doesn't gobble battery power excessively in normal use.
Verdict
Both the 6500 Slide and 6500 Classic offer different takes on what a sophisticated mobile should be. Get your hands on the Slide and you'll find it has plenty of appeal, both for its slick, brushed-metal looks and its tidy range of features, including that fine 3.2-megapixel camera. Sure, you could spend more cash and get a N95 smartphone with even more features, including a 5.0-megapixel camera, but in its own class and price range the 6500 Slide is one very attractive device. Expect to see it in plenty of hands real soon.

Nokia 6500 Slide mobile phone
Can we call the Nokia 6500 Slide a classic - or is that just too confusing?
Price:
Contract - from free - £100, pre-pay: £240, handset only: £270 RRP