Nokia 6500 Slide mobile phone
Nothing slippery about this one...
Pictures were suitably sharp for regular sized prints. Contrast and varying lighting conditions were well handled in our test shots. The flash, unusually, uses two powerful LEDs which usually worked well in dark conditions but can overpower close-up shots if not disabled.
The Slide supports PictBridge to make printing photos easier, while a few basic editing options are available in the phone too. Nokia is equipping the 6500s with an option to upload shots straight to a Flickr account, although this wasn't available on our review samples.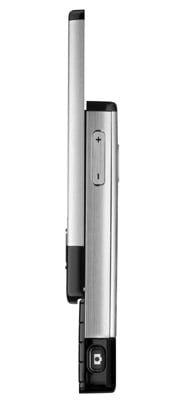 Not the slimmest of sliderphones
Video recording in maximum VGA quality and at 15 frames per second provides a reasonably good performance for a cameraphone, though not digital camcorder quality by a long stretch. You can play back video on the phone at up to 30 frames per second, so downloaded video clips or PC-transferred footage can look smooth (and good for the screen size) in landscape format.
With the TV cable attached you can view video clips and images at lower res, or even watch video calls as you're making them on your TV screen - a potential family pleaser. You can view or listen to other content too, such as games and music or use the web browser via the TV link. TV-out for mobiles is nothing new, of course, but it's still a welcome addition for this mid-range Nokia.
The music player on the Slide may get a lower billing than on the Classic, but it's essentially the same audio and video player, supporting MP3, MP4, AAC, eAAC+ and WMA audio file formats, and with the same interface. It's straightforward to use, with songs arranged in the usual sort of categories as regular MP3 players – artists, albums, genres and playlists, plus videos – and a simple to operate, if not particularly awe-inspiring, user interface.
To copy tracks to the phone (or memory card) you can plug the handset into a PC using the supplied USB cable. You can sync the player with your PC tunes using Nokia Audio Manager, included as part of the Nokia PC Suite software supplied on disc. This can also be used to sync calendar, contacts and notes via USB or Bluetooth. Alternatively, you can drag and drop tunes using the phone in data storage mode.