Nokia 6500 Slide mobile phone
Nothing slippery about this one...
The previously mentioned TV-out facility uses the 2.5mm jack socket to hook up to a supplied video cable that plugs into the AV phono inputs on your TV.
Getting around the Slide's functionality is very straightforward, in regular Nokia S40 style. The default Active Standby screen provides quick access to some of the most used functions. There's a carousel of five user-configurable icons ranged on the top of the screen, plus additional function shortcut options for functions, or options for calendar/notes lined up onscreen. These can be easily configured to suit your tastes, as can the soft-menu keys and the quick access buttons set for messaging and calendar on the navigation D-pad.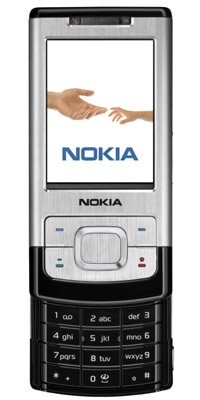 The slider's a smooth operator
Alternatively, you can plunge straight into the main menu from the D-pad. This is a grid of icons covering the main functions or settings headings - further clicks take you deeper into the menus. All familiar Nokia stuff, and easy to use.
The camera on the Slide will be a clincher for some buyers. There are other 3.2-megapixel cameraphones around, but the presence of Carl Zeiss optics – used by Nokia on its more upmarket photo mobiles such as the 5.0-megapixel N95 - marks the Slide up as something a bit more than standard snapper fare.
Imaging on the Slide is a far superior experience than the one offered by the 2.0-megapixel Classic. The set-up is much neater, with one-button access (open or closed) to open it up in landscape mode, so you hold the phone like a proper camera. The ergonomics of the size and control layout work well, making for non-fiddly access - it's also easy to slip between photo and video mode using the D-pad.
The Slide's autofocus system works well, and is quick enough to lock on to subjects. Even close-up shots can be kept nicely sharp with the automatic macro facility. Colour rendition is generally very good and natural, and the automatic white balance settings adapt well with changing conditions. You can also make setting adjustments for indoor or outdoor lighting conditions.