US gov silent robot white (?) helicopter prangs itself
Groundbreaking technology
A revolutionary* new robotic whisper-mode helicopter under development in America has crashed, according to reports.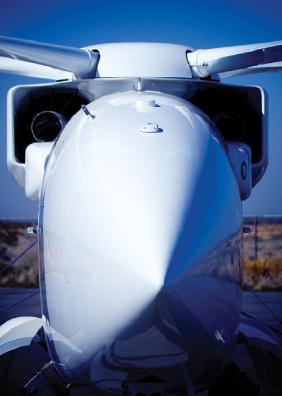 The US government's silent robot helicopter.
Not black! What were they thinking?
The A160T "Hummingbird" unmanned chopper was under development by US aerospace colossus Boeing for the Pentagon deathboffin bureau, DARPA (the Defence Advanced Research Projects Agency) and the Special Operations Command. Likely end-users would include top-secret American special-forces units operating undercover.
The design features a new variable-speed rotor configuration which Boeing believes will offer improved range, speed, height and the ability to "operate much more quietly than current helicopters".
Given this background, Boeing's choice of colour scheme seems at odds with popular culture to say the least. White is the new black when it comes to silent government helicopters, seemingly.
However, it appears that the you-didn't-see-us crowd may have to wait a while for their new ride. Flight International reports that the sole flying A160T prototype was destroyed in a crash on Monday during trials in California. The cause of the wreck is unknown thus far. Apparently this was the turbine-powered T model's tenth flight, though there was an earlier test programme involving basic piston-engined A160s. (That version suffered three crashes in 36 sorties.)
Flights of the (literally - cough) groundbreaking new helicopter will be suspended while an investigation takes place. There is apparently one further A160T in existence, but it is only being used for ground testing at present.
The Flight report is here. ®
*Ha ha