Nokia develops eco phone concept
Would you buy it?
Nokia is challenging traditional mobile phone concepts and seeking to help the environment in one go, with the unveiling of its Eco Sensor Concept handset design.
The Finnish phone giant claims it designed the handset not only to be capable of making calls, but also to provide individual and ecological benefits.
While the Eco Sensor phones doesn't seem as though the phone's designed to let users monitor their individual carbon footprint, Nokia claimed that by making the handset as small as possible, it'll be helping to minimise any environmental impact and reducing the need for too many materials.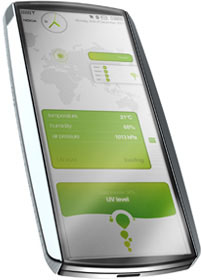 Nokia's Eco: planet-friendly... conceptually
For example, the Eco Sensor will use printed electronics, which Nokia said reduce the device's size and reliance on non-renewable materials. Nokia will also use electrowetting in the handset's display, applying an electrical charge to drops of oil that cause them to expand and contract like pixels, but using less energy.
It's also created a solar-powered sensor unit to communicate with the phone using Near Field Communication or Radio Frequency Identification. It records a user's vital health signs during, say, a jogging session and sends the data to the phone for analysis.
However, Nokia didn't say whether the handset will automatically call an ambulance if your heart gives up the ghost.
Users will be able to select the individual sensors they want inside the handset. This, Nokia claimed, will also help cut down on components, unless you want them all.
The company hasn't said if it plans to develop the handset past the concept stage. But, if it does, then the Eco Sensor will be a leap on from Nokia's 3110 Evolve handset, which it launched at NokiaWorld in Amsterdam last week. The 3110 has faceplates made from 50 per cent recyclable material.
COMMENTS
Eco phone
Mobiles use lots of power when a long way away from the nearest mast, so the best way to reduce power consumption (and reduce the strength of mobile phone radiation) is to increase the number of phone masts.
Also, running a mobile off the mains will reduce the power it consumes as it stops the battery going flat. However, it would be best to be able to isolate the mains from the battery unless the battery is flat and needs charging anyway. A phone that had a mains use only function would be necessary to maximise the power saving.
Other obvious ways of greenifying your phone use:
Don't use your phone to talk when you can text instead.
Switch your phone off when you are not needing it.
Don't send pictures unless you have to.
If you are on the bus, leave your phone in your pocket rather than watching videos or playing games.
Allow the battery to run down naturally to zero (or as close as you can cope with)before you charge your mobile.
Don't replace your phone until you need to.
Don't use your mobile when a land-line is available.
sounds like...
...more quasi-green horseshit to me. i've it up to here [gestures at head height] of all the marketing crap attached to environmentalism now. it's been turned into 'just another market'. eco-fuels, carbon offsetting for your 20 flights a year, phones with 2% recyclable arse. aaaarrrrggh!!! stop it!!
seriously, though, we need to consume LESS. that's all we can do. either that or have a rather large war, which i'm not _too_ keen on.
interesting article on green consumerism here:
http://www.monbiot.com/archives/2007/07/24/eco-junk/
not solar?
The pointless sensor thing is solar powered, but not the phone itself?
Yawn
Yyyyaaaaawwwwnnnnnnnnn.......zzzzzzzzzzzzz.......and other similar sentiments!!
Am I missing the point...
...or would holding onto your existing handset for more than a week be much better environmentally?
Message to the world's teenagers and IT types: "Get a life, it's only a phone".