Asus: memory upgrades will not void Eee PC warranty
Well, in some countries, at any rate...
Asus has bowed to the desire of Eee PC buyers to tinker with their teeny laptops and said it will continue to honour the machine's warranty even if users open the unit's memory hatch.
That cover currently has a tiny sticker applied over one of the two screws that hold it in place. The sticker reads: "Warranty Void if Removed." Beneath the hatch sits the elfin notebook's single 667MHz DDR 2 SODIMM memory slot with a pre-installed module of up to 512MB capacity.
Quite a few Eee PC users have considered upgrading the machine's memory, particularly those who want to run Windows on the machine rather than the version of Linux it come pre-installed with. However, some have avoided doing so in case the process prevents them getting another part of the machine fixed for free at a later date.
However, this weekend Asus told users: "Asus is committed to... making sure that its customers are free to make appropriate hardware and software modifications and upgrades, regardless of whether the service is performed by an approved facility, a non-approved service provider, or by the customers themselves."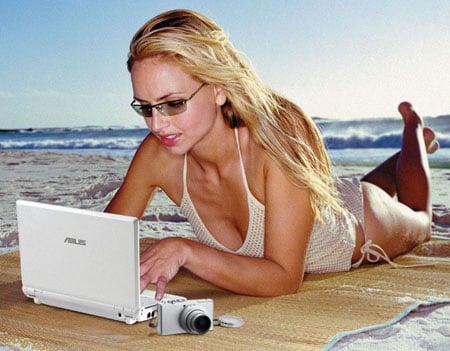 Asus Eee PC and friend: fiddle away, your warranty's safe
It added it will "replace the warranty label with a label to warn users that ASUS will not be responsible for the damage caused by improper hardware change".
The adjustment probably doesn't go quite as far as to leave folk who build Bluetooth and USB Flash drives into their Eee PCs, as one guy did.
That said, the company appears to be making the change not for philanthropic reasons but because the stickers have been applied to machines sold in countries where "these stickers are not permitted".
The warranty notice was posted on Asus' US website, suggesting the US at least is one nation that takes a dim view of warranty-voiding stickers.
Thanks to Reg Hardware reader Robert for the tip.
Related Reviews
• Asus Eee PC 4G


Sponsored: Minds Mastering Machines - Call for papers now open