Logic3 SoundStation3 PS3 speakers
Three it seems, is the magic number
The equalizer switch is located towards the bottom end of the primary speaker and has three pre-set configurations: Video (although our test machine had 'Movie'), Game and Music. We played the bank-robbery-street-shootout scene from Heat - on DVD not Blu-ray - at full volume to see how the speakers coped on the Video setting and there seemed to be a constant background noise. We double-checked this against the men's-washroom-amusing-anecdote scene in Reservoir Dogs and the hum was still present.
To determine whether the hum was a speaker issue or a case of the downside of DVD in the face of Blu-ray, we checked it by playing the free-running sequence in Casino Royale on Blu-ray. And sure enough, the background hum was noticeable, but only just. It was substantially reduced. The volume still lacked the same impact as gameplay seemed to produce, but it will suffice for most movie viewers.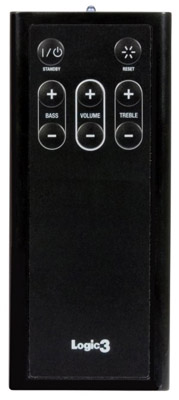 Another remote to add to the accumulating collection
Incidentally, the SoundStation3's remote control sadly doesn't allow you to switch between the pre-set EQ modes, but it does provide bass and treble controls in addition to volume adjustment.
We next tested the Game setting with Ghost Recon 2: Advanced Warfighter and the time the speakers really showed their capability. There was no background noise whatsoever during brief, silent sections of the game, and the volume seemed to increase and the overall impact with a booming bass was much more significant.
On the Music setting, the background noise seemed to return, and we played Been Caught Stealing by Jane's Addiction as loud as we possibly could. The banging bassline wasn't distorted in any way and the overall audio was more than adequate.
All of which suggests the hum is more the fault of the content and/or the PS3's playback software. Game soundtracks were 'clean', so we can't blame the speakers.
Overall, the SoundStation3's sound quality wasn't at all bad. This isn't a system that's going to fill your lounge with surround sound and the maximum volume of the SoundStation3 isn't even going to surpass your television, if you have a big-screen model. But it's effective for a 70 quid pair of budget speakers.
Verdict
Logic3's SoundStation3 speakers are by no means a substitute for a Pro Logic Skywalker Sound system or THX surround sound, or whatever Lucas-linked brand name high-end hi-fi comes with these days. But if you were to consider the price-to-quality ratio, then you'll hard-pushed to find a product that enhances your PS3 pleasure quite this much... and can make you feel like you're the man in the Maxell advert, bombarded with audio as you absorb the acoustics of...say, the awesome Amadeus on DVD.
Sponsored: Minds Mastering Machines - Call for papers now open

Logic3 SoundStation3 PS3 speakers
Bargain-priced bombastic bombardment for your PS3