Via Michelin X970T satnav
Budget pricing still doesn't put this brand on the map
The software let us down, however, when we wanted to enter a test destination: Bishop's Cleeve in Gloucestershire. The sat nav decided that no such place existed. Bishop's Auckland was suggested instead, 290 miles from where we wanted to go. When the unit was faced with a T-junction that was converted into a mini roundabout a year ago, the junction was completely ignored while the software told us about the next turn that was 200 metres up the road.
This was worrying, so we pulled over to try out the POIs to find out about good stuff happening locally. Here we hit another problem: a number of POIs are divided into two groups, Commercial POIs and Seasonal POIs. But in both cases, the list was blank as you have to download the POIs and map updates in advance from the Via Michelin website.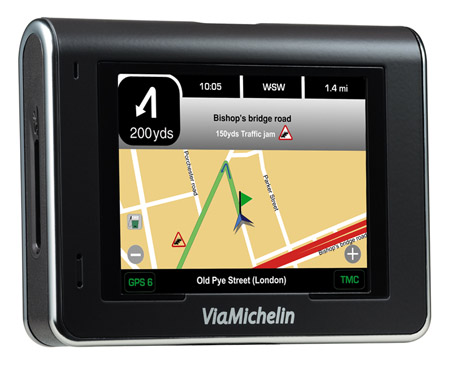 Nice map - but is it accurate?
Before you can get these updates you have to register the product, which in turn means you have to install the Via Michelin Navigation 7 software to generate a product identification code. Using the serial number from the barcode on the box would just be too simple, apparently - far better to install 6GB of software from the DVD. To add to the joy, the software is only compatible with 32-bit versions of Windows 2000, XP and Vista.
You can forget about 64-bit Vista or Mac OS X, but even though we were using 32-bit XP and able to install the software and USB drivers we never saw a product ID, and therefore couldn't register the sat nav unit. When we asked Via Michelin about this problem, we were told that "we may need to disable the firewall to let the software work".
A niggling one-off problem this may have been, but it could be an issue for Mac users, anyone running Windows 98 or - God forbid - anyone without a PC. Last time we looked, this wasn't a prerequisite to owning a sat nav.
To be fair, it isn't, and you can use the X970T straight out of the box. But then you just get the regular lists of Burger Kings, McDonalds, police stations and so on.
Verdict
The Via Michelin X970T carries an appropriately low price tag for a budget model, and it does pack a full set of European maps, but we're not too sure that it offers good value. The registration process is both annoying and unnecessary, and reduces the value of the X970T. But our biggest concern is over the accuracy of the mapping software. Perhaps a trip back to the drawing board is in order?
Sponsored: Minds Mastering Machines - Call for papers now open

Via Michelin X970T satnav
Fails to really reach its final destination...
Price:
£145 / €203 / $299 RRP