Man opens Eee PC, adds internal USB ports
Solder of fortune
Want to boost the storage capacity of your Eee PC in a cheap and - more to the point - upgradeable way? Want to add Bluetooth while you're at it? Then follow the lead of one enterprising owner who added a pair of internal USB ports to the compact computer.
The Eee PC's memory bay is also home to the machine's Mini PCI slot. Well, on early models it is - some later ones lack this feature. EeeUser.com forum poster Johnx's does, allowing him space to add a pair of surface-mount USB ports, fixed to the motherboard and then - very delicately - connected with wires he soldered onto points on the circuitry.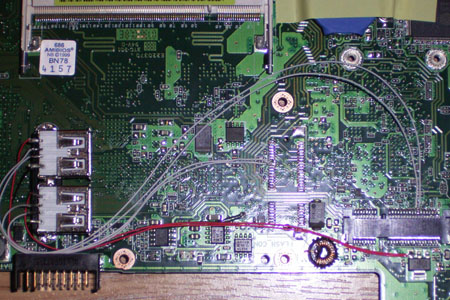 Solder wires here, here, here and here...
Image courtesy EeeUser.com/Johnx
It's the soldering that would put us off - along with the associated risk of bricking the gadget. But you have to take out the motherboard too. So this is a modification only for those stout of heart and capacious of wallet.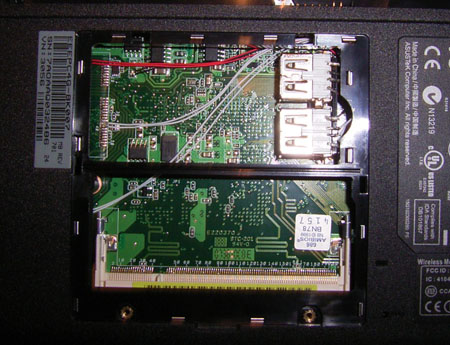 Open memory bay, insert extra storage etc.
Image courtesy EeeUser.com/Johnx
But with the two USB ports in place, you've a handy place for a some cheap USB storage to allow you to keep the computer's SDHC card slot and external ports free. It's a particularly handy mod if you run Windows on the Eee PC, since you can set the added drive up as the site for the OS to write the many temporary files it creates, saving your irreplaceable solid-state disk from shouldering the burden.
When your USB drive's used up its write-cycles, just bung in a new one.
Bootnote The Asus Eee PC model is on holiday.
Related Review
• Asus Eee PC 4G sub-sub-notebook
Sponsored: Minds Mastering Machines - Call for papers now open