Chancer punts 'lucky' Wii for $1,234,567...
...and 89 cents
We're not quite sure exactly what this is all about, but someone has decided to flog a "lucky" Wii on eBay for the magical "buy it now" price of $1,234,567.89: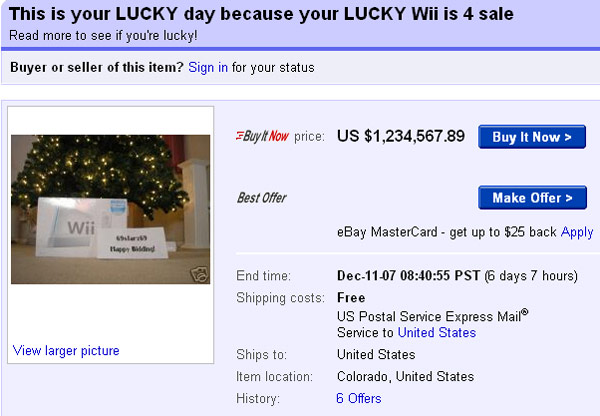 The blurb continues:
BUY IT NOW! It's your LUCKY day!

Only you can have the satisfaction of being the one who spent $1,234,567.89 on Ebay to purchase the Lucky Nintendo Wii game system.
(Hence 1-2-3-4-5-6-7-8-9 which is an extremely LUCKY string of numbers for many people)
In case you're wondering quite how LUCKY those numbers are, the vendor kindly provides an explanatory Xmas tree: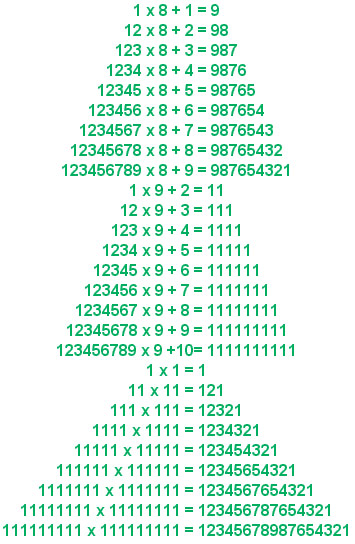 Wow. The breathless punt continues:
With all of the attention this Lucky Wii will get you can use your new Lucky Wii in an auction, raffle, or lottery to rake in the cash and make your money back ten-fold or you can raffle it for charity.

With all the attention you can impregnate your brand or company name into the minds of people all over the world that have heard of this Lucky Wii auction. Exploit it!

Online casinos and businesses with clout could really use this to add to publicity stunts to promote their businesses and new products. Maybe Golden Palace has a new game that uses this string of lucky numbers and need a promotional tool? Maybe Facebook or MySpace want to raffle it in a drawing to bring in new users? Who knows, you could do practially anything with the Lucky Wii.
Well, it's a lot of wonga, but less than the decidedly ordinary Wii which popped up recently for £1m and wasn't remotely LUCKY, to our knowledge.
A word of warning, though, the LUCKY Wii's seller adds the following caveat:
Purchase does NOT guarantee you will make any radio or newscasts nor do I promise that this will bring you luck - What do you have the power to make happen? I'll work it from my end and you work it from yours and we'll see where it takes us.

At worst, it sure would make a great story to tell the kids.
Yes, we can see it now: "Dad, why do I have to go and stack shelves in Wal-Mart? I wanted to go to Harvard." "Well, son, I blew your college fund and all our savings on a LUCKY Wii, which is why we're now living in a trailer park. Fancy a quick game of Super Mario Galaxy before we hit the soup kitchen?" ®
Sponsored: Minds Mastering Machines - Call for papers now open