The N81 comes with a decent helping of 3G and smartphone features, and you can add further Symbian S60 applications. Video calling is present and correct, and there's a RealPlayer multimedia player for viewing downloaded or PC-transfered video content. This can look great in landscape mode. The camera on the Nokia N81 is, however, a pretty average affair.
The two-megapixel camera has dedicated on-button access and a user interface that's fairly intuitive. A reasonable set of tweaks can be made to the settings. But the pictures we took were patchy, and sometimes the colour rendition lurched from acceptable to disappointingly poor. The fixed-focus lens can produce decent snaps up to 5 x 7in in size, but close-up quality is limited and images are often soft.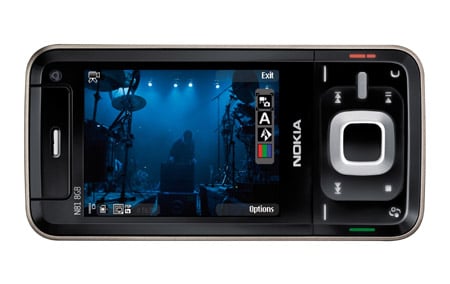 Still photography is OK, but video works better
Not, then, Nokia's best effort by a long way. Video capture is better than average for a cameraphone, recording in VGA quality (640 x 480) at 15 frames per second.
You can upload stills and video with a couple of clicks to Flickr and Vox, and then there's Nokia's Lifeblog application, which can automatically timeline texts, messages, notes, pics, videos and so on, and allow you to upload them to a blog or transfer them to your PC.
Although there's no GPS receiver, the N81 does come with Nokia Maps software, which can work with a Bluetooth GPS receiver if you have one. Web surfing is taken care of by the Nokia Web Browser, which works as swiftly as you'd expect on Wi-Fi and fairly smartly too on 3G. The device also supports email with attachments. As usual with Nokia S60 smartphones, you get a good selection of personal information apps, calendar, notes, calculator and PDF reader.
Nokia claims the N81 can run for up to 17 days on standby, with a talktime quoted at four hours on GSM and three hours on UMTS 3G networks. We found the battery to be a heavyweight contender in this respect, requiring infrequent recharges in regular usage. To make the most out of its music and gaming facilities, though – which presumably someone forking out for an 8GB phone will do - regular charging will be required. Music playback time is estimated at up to 11.5 hours, while thumb-tapping gamers can expect six hours' play from the battery pack. Call performance was excellent.
Verdict
If you're looking for plenty of track storage in a smartphone, the N81 is a lower-cost alternative to the N95 and, indeed, Apple's iPhone. It doesn't come with the same wealth of functionality as the N95 – no GPS and a lower quality camera than the N95's five-megapixel job. The design's slick but the plastic casing gives the N81 a cheap feel. And while the controls are cluttered and definitely not as ergonomic as they could be the music player performance is excellent.

Nokia N81 8GB smartphone
It's cheaper than the N95, but not as feature filled. Makes a very nice music phone, though...
COMMENTS
My next phone.
Wrote a letter to Santa I want one for X-mas :)
It was a great review, about real life usage. Keep up the good work.
Additions
It should also be pointed out that, unlike some of the more expensive models (N93(i), N95), it doesn't have hardware 3D acceleration, which would be pretty much welcome on a gaming handheld.
Second, you state "it has a UPnP media streaming facility for transmitting tracks to a compatible hi-fi." UPnP is able to do a lot more - for example, streaming to YOUR handset from a UPnP-enabled NAS, which is the most widely used usage area of UPnP.
Good review
I picked one of these up about a month ago for free. Have to agree with much of the article, the keys are a bit fiddly (even the normal keypad, which feels very flat). However, I've got it downloading podcasts via home Wi-fi which was a cinch to set up.
Overall, you could do better than this phone, but you could do a whole lot worse.