Nokia N81 8GB smartphone
You wait ages for an 8GB Nokia then three come along at once
Review Nokia followed up its first 8GB mobile, the music-centric N91, with a second one, the N95 8GB. And now here's a third: the music and gaming geared N81 8GB.
The N81 arrives at the same time as its more luxuriantly-equipped N95 stablemate, bringing a smidgen more choice at a lower price to the high-capacity music-mobile arena.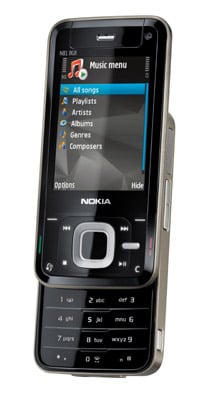 Nokia's N81: glossy but cheap-looking
Nokia is, unsurprisingly, focusing on the N81's music capabilities. As well as its headline storage capacity, and obligatory dedicated music controls, the N81 8GB is one of the first mobiles to support Nokia's Music Store over-the-air download service.
This handset is also one of the first geared up to handle Nokia's revamped N-Gage mobile gaming platform, with a mix of dedicated keys and front-panel buttons that double up as console-style controls.
The N81 is based on the Symbian 9.2 operating system, with Nokia's own S60 3.1 user interface. It's a quad-band GSM and 3G device, although HSDPA isn't included. Nokia has added 802.11b/g Wi-Fi, however, so users have the option of selecting this cost-effective and convenient route for downloading and surfing.
The N81 offers a more modest feature set than the N95: an average two-megapixel camera with flash sits on the back, and there's no GPS receiver in this model. There's also a more straightforward, one-way slider mechanism on this device, with music player controls arranged around the central navigation keypad rather than under a separate cover.
Still, the N81 is some pocketful for a sliderphone, weighing in at around 140g and measuring a less-than-slimline 102 x 50 x 17.9mm. The back and front are made from glossy plastic, which feels a little cheap, and was slippery in hand - particularly when paws were cold or wet. Dominating the front panel is large, bright 2.4in, 320 x 240, 16.7m-colour display.
COMMENTS
My next phone.
Wrote a letter to Santa I want one for X-mas :)
It was a great review, about real life usage. Keep up the good work.
Additions
It should also be pointed out that, unlike some of the more expensive models (N93(i), N95), it doesn't have hardware 3D acceleration, which would be pretty much welcome on a gaming handheld.
Second, you state "it has a UPnP media streaming facility for transmitting tracks to a compatible hi-fi." UPnP is able to do a lot more - for example, streaming to YOUR handset from a UPnP-enabled NAS, which is the most widely used usage area of UPnP.
Good review
I picked one of these up about a month ago for free. Have to agree with much of the article, the keys are a bit fiddly (even the normal keypad, which feels very flat). However, I've got it downloading podcasts via home Wi-fi which was a cinch to set up.
Overall, you could do better than this phone, but you could do a whole lot worse.