Blu-ray widens US disc sales lead
Big share of Thanksgiving viewing
Blu-ray Disc player owners bought more discs during the US Thanksgiving holiday period than their HD DVD-owning counterparts did, numbers from market watcher Nielsen VideoScan reveal.
Some 72.6 per cent of all HD discs purchased during the period were BDs, while 27.4 per cent were HD DVDs, according to Nielsen figures relayed by the US Home Media Magazine.
That's down from the 37.5 per cent media sales share HD DVD recorded for Q3 as a whole.
US 2007 hi-def disc sales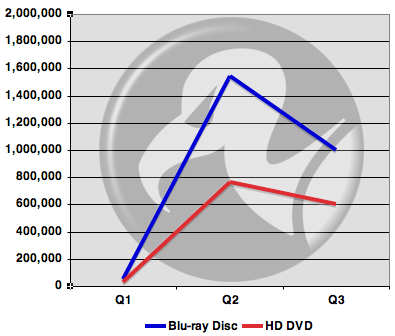 Source: Home Media Research, Register Hardware
The HD DVD camp likes to portray consumers of its favoured format as being more interested in movies than the other lot's users are, but when it comes down to it, it's about bums* on seats, and like it or not, Blu-ray is shifting more units than HD DVD is.
Such is the numerical superiority of PlayStation 3s out there, that even though HD DVD owners are (probably) more dedicated movie buyers than the average BD machine owner, Blu-ray wins the numbers game.
Last week, the HD DVD Promotional Group said sales of HD DVD players to date have passed the 750,000 mark - an increase of more than 400 per cent since June.
*Note to North American readers: a rear end, not a vagrant.
Sponsored: Minds Mastering Machines - Call for papers now open