Samsung readies 'fastest' graphics memory
Samsung will next year put GDDR 5 into mass production, it said today after announcing 6Gb/s 512Mb chips based on the graphics memory spec.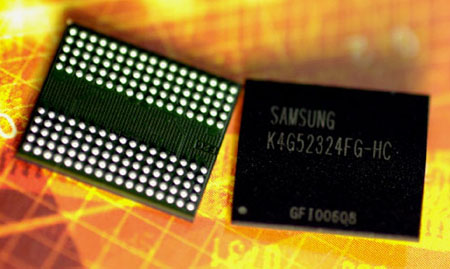 Samsung's GDDR 5: due next year
It's not the first. Qimonda began sampling a 512Mb GDDR 5 chip early last month and was quickly followed by Hynix, which upped the ante with a 1Gb part.
Hynix's chip has a per-pin bandwidth of 5Gb/s - enough for an aggregate 20GB/s throughput. Samsung's faster chip can deliver up to 24GB/s.
Like Samsung, both Hynix and Qimonda are expected to deliver GDDR 5 in volume next year. Samsung said its chips will be fabbed at 60nm.
COMMENTS
forever...
You do realize that you'll be waiting forever if you do that!
Dang...
See... This is exactly the reason why I can never buy a new computer. I've been waiting since they announced PCI-Express to pony up the bucks for a good one, and every time I'm thinking about buying one something else awesome is slated to come out... Its just mind blowing. Oh well. Guess Ill keep on the sideline until I see something I REALLY want a super computer for.