Nokia N95 update speeds apps with virtual memory
Sorry, 'on-demand paging'
Nokia has posted a software update for its N95 handset which, it claimed, makes the "multimedia computer" load applications more quickly and play music for three more hours on a single battery charge.
The update, version 20.0.015, focuses on "battery, stability and performance improvements". Among them is the addition of "on-demand paging", essentially a way of parking blocks of memory to the handset's solid-state storage to make room for others - virtual memory, in other words.
The upshot, Nokia said, is that users can load more applications and switch between them more quickly than they could before.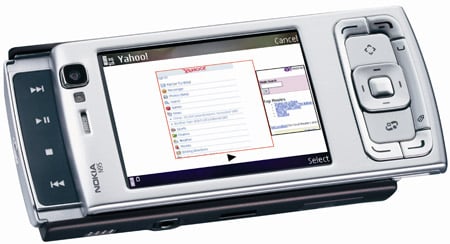 Nokia's N95: play with it for longer
Users will also be able to re-arrange the S60's menu layouts courtesy of the New Menu Structure app that comes with the update.
The update's battery tweaks make for longer gaps between re-charges, with the Finnish phone giant quoting an extra 30 per cent music playback duration post-update. That takes the N95's continuous music play time from nine hours to 12.
The software also includes a new version of Nokia Maps, which builds on the previous update that added Assisted GPS - helping out the handset's GPS receiver using triangulation sent across the network - with even faster positioning.
Downloaders will also get three days' free navigation, suggesting this paid-for add-on service isn't quite as popular as Nokia might have hoped it would be.
Ditto N-Gage games, some demos of which come with the update in a bid to encourage more N95 owners to surf over to Nokia's online Music Store and pay to get some full versions.
The update, version 20.0.015, can be grabbed using Nokia's Windows-only Nokia Software Updater utility, available here.
Related Reviews
• Nokia N95
• Nokia N76
• Nokia 6110 Navigator
• Nokia 7500 Prism
Sponsored: Minds Mastering Machines - Call for papers now open