LG KU990 Viewty cameraphone
Give a phone a touchscreen and suddenly everyone's interested
There's some good quality video player functionality on this device too. The KU990 supports DivX video playback - DivX converter software is supplied on a CD. The large screen is a good platform for playing movies or video clips from a card or copied over from a computer. There's a TV-out mode too, but you'll need to buy the cables separately.
The web browser on the KU990 does a pretty good job. It can optimise full web pages for display on a mobile screen, enabling you to scroll down the page in portrait or landscape mode. You can also see an overview of the page and select a portion to zoom into. The jog dial on the lens can be used to zoom in and out of pages quickly. The scroll bar issue can crop up here too, but generally you can get a pretty good - but not desktop-like - web experience.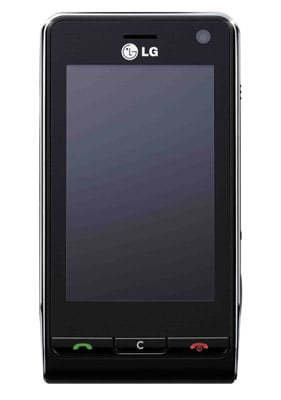 Packed with features - and 90MB of memory
The KU990's other features include a regular selection of organiser applications – memos calendars and suchlike - plus currency converter, calculator and world clock features. There's also a good-looking touchscreen shoot-'em-up game, Space Commando.
With all the headline-grabbing stuff going on with the touchscreen and camera, it'd be easy to miss out the phone functionality. Here LG hits the right buttons. The virtual keypad and contacts list are easy to negotiate, and the call performance is perfectly good - we had no problems making or taking calls.
It's no surprise that the battery life on a phone that offers 3G and a large display isn't the best we've seen from a handset. You should be thinking about refuelling every two days if you're making regular use of the add-on features. More frugal usage will extend that – LG quotes battery life at up to 454 hours on standby or 5.9 hours of talktime on a full charge.
Verdict
There's plenty to be admired about the KU990. On looks alone it will wow many would-be buyers, but the imaging functionality in this device offers an unusually rich variety of shooting and editing options in-phone, both with its five-megapixel stills capability and 120fps video shooting trickery.
LG might have considered adding a Wi-Fi connectivity option to aid fast video uploads as well as browsing, but HSDPA will take care of most users' connectivity requirements. There are a few usage quibbles – the focus ring, and the consistency of touchscreen scrolling, for instance – but this high-end cameraphone certainly delivers an impressive performance.

LG KU990 Viewty cameraphone
A high-quality camera tussles with the touchscreen for the spotlight
Price:
Contract: from free to £170; pre-pay: TBC; handset only: £400 RRP