LG KU990 Viewty cameraphone
Give a phone a touchscreen and suddenly everyone's interested
The handset lends itself to holding the device in landscape mode for snapping. The touchscreen element enables quick access to camera settings and editing tools. There's plenty of those to play with – as well as autofocus and fully automatic settings, you can adjust contrast, exposure, white balance, ISO, colour tones and flash settings, including red-eye reduction. You can take multiple shots too, plus stitched-together panoramic pictures.
There's a macro mode, so you can take high-quality close-up shots in focus. Unusually for a mobile phone, LG has also added a manual focus option, controlled either by the jog wheel around the lens or an on-screen touch control.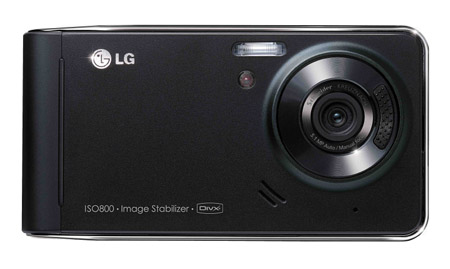 The camera looks the part
The jog dial positioning really didn't do it for us. While it echoes the focus ring of a camera, it's awkward to use when trying to hold the camera steady – particularly if you don't have long nails - and fingers are likely to wander in front of the lens if they're trying to zoom in when you're shooting video. A side/top-mounted rocker or jog wheel next to the shutter control would've been a far better option.
Still, the KU990's 5.0-megapixel CCD can produce excellent images of exceptional detail and clarity. Images can look fabulous – colours render accurately and richly, and there's plenty of scope for expressing your creativity.
At the same time, you have to be a bit careful when you're shooting, if you want to get the best results. There is a slight delay when pressing the shutter button from when the autofocus locks on to the point at which the image is captured. Even though the picture may look clear and in focus when you've hit the button, the result could end up blurred if there's slight movement. This is even more of an issue in poorer light conditions.
LG has added a digital image stabiliser option to compensate for this – tap the Lock key on the side to activate it – but it's worth taking the shutter lag into account before the electronic compensation gets to work.
Sponsored: Minds Mastering Machines - Call for papers now open