Nintendo DS to get movie, TV download service
But not over Wi-Fi
Japanese gamers will soon be able to watch movies on a Nintendo DS, thanks to the creation of a movie download service for the handheld console.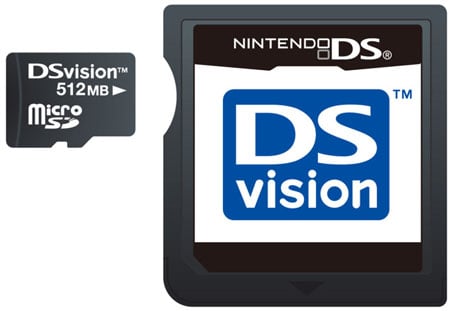 DSVision: download and watch films on your DS Lite
It's to be called DSVision and will, upon its launch next year, carry around 300 films, e-books, TV programmes and comics - although its catalogue is expected to grow rapidly, the company claimed. Content is downloaded via a PC and users will need to buy a kit containing a USB Micro SD card adapter and a 512MB card to get up and running.
Content is downloaded onto the Micro SD card and then slotted into a special cartridge, which is also included in the pack, so that the memory card can be used in the console.
We're not quite sure how films will be displayed and what impact the console's dual screens will have on watching a film. For example, will gamers be able to watch the movie on the top screen and browse its options, such as subtitles, on the lower display? Or, will one of the screens enable gamers to also play games whilst the movie is playing, should it get a bit boring?
The DSVision service is due to launch in Japan in March 2008, with the starter kit costing ¥4000 (£20/€29/$40). However, it's not been said what, if any, the charges will be for downloading content from the website.
COMMENTS
R4DS
I was going to mention a remarkable similarity to the R4DS card also....
That works with video on the top screen and the bottom one turned off, though the article suggestion is an interesting one that i'd like to see, with controls, subtitles etc maybe available on the bottom screen.
Looks a bit like my "M3 DS Real"...
Is this Nintendo ripping off the technology found in the existing 3rd party expansion carts?
My cart already allows movie, music and ebook playback (with a few bonus features that I'm SURE Nintendo won't be making available!!).