Solwise DMP-1120w UPnP/DLNA network media player
Apple TV wannabe?
For a machine that needs Windows Media Player to drive it, the fact it won't play WMV files seemed just a little strange to us. We suspect it may also rule out access to some rather large collections of 18-rated video as WMV seems to be the preferred format of said... so we are told.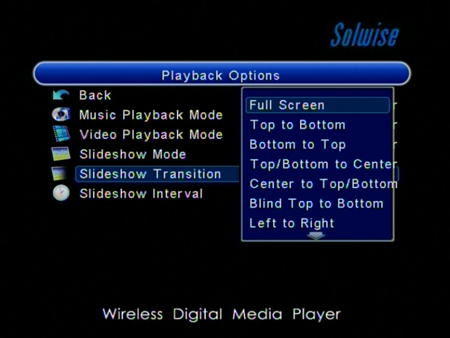 Pick your preferred transitions...
Next, we tested the DMP-1120w's photographic abilities. JPEG images that looked just fine on our laptop screen appeared on our test Samsung LCD TV with a truly terrible colour balance, especially those shot under artificial light with strong colours in them. Incidentally, JPEG is the only image format the box supports. But at least you can turn off most off the clunky slide-transition effects and just fade from one to the next.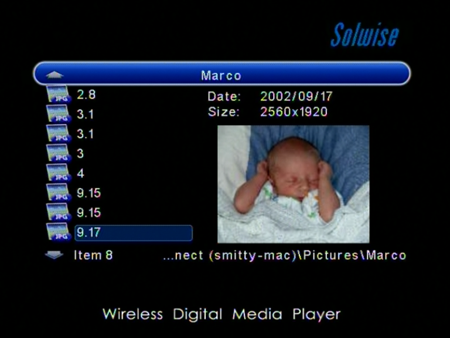 ...and peruse your pics
Upsides? The ability to play media directly from SD, Memory Stick or CompactFlash (CF) cards is handy. We couldn't get the review unit to accept a 4GB CF card, but the principle's sound. While this might sound like an alternative to keeping your computer switched on, flipping cards and and out really isn't a good idea. Fortunately, the DMP-1120w has a USB port too, so you can hook it up to an external hard drive.
But if you do, you're back to tracks being listed alpabetically by filename rather than by artist, title, genre or whatever. You can make things easier for yourself by organising albums into folders, and the Solwise box does have a Folder-based navigation option. But the default is to list the drive's music, movies and photos in three long lists.
Still, unlike the irritatingly HD-only - well, ignoring hacks - Apple TV, the DMP-1120w is happy to work with standard-definition TVs, via component- and composite-video ports and a Europe-friendly Scart connector. It has stereo audio RCA jacks too and a digital optical audio output.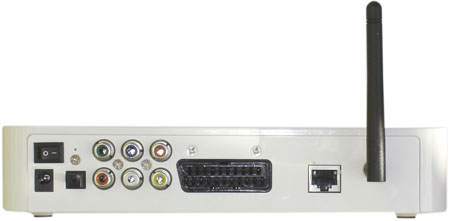 No HDMI, but it does have Scart
And the UI isn't as bad as some we've seen. It's basic, and not as neat and tidy as the Apple TV's - it's certainly not as smooth and responsive - but it works, and with music at least relies on metadata rather than file and folder names for ordering - though we suspect having a smart DLNA server app goes a long way here. EyeConnect was clearly clever enough to present the files using the metadata when WMP 11 wasn't.
Verdict
The Solwise DMP-1120w will only set you back 42 per cent the cost of a 40GB Apple TV box, but you won't be getting anything like 42 per cent as good a system. Still, if the extra £116 for the Apple rig is too much, you're a DivX buff, or you don't mind keeping your computer on all the time, the DMP-1120w is a cheap, frill-free way to get your content onto your telly.
Sponsored: Minds Mastering Machines - Call for papers now open

Solwise DMP-1120w UPnP/DLNA network media player
Wireless media playback on the cheap, yes - but better boxes don't cost much more this one...